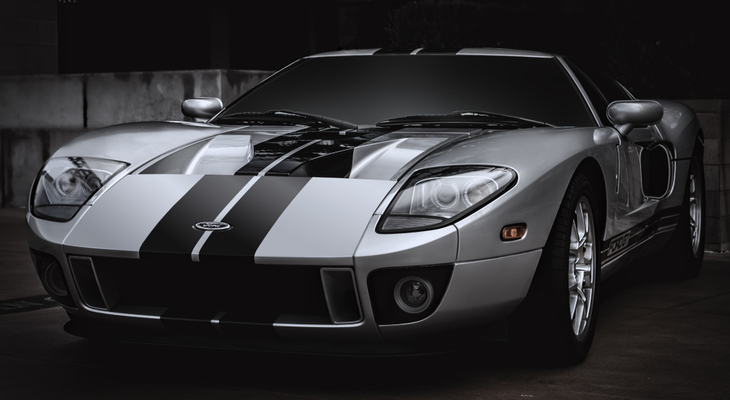 It may not have the accessibility of the Corvette or the Viper's venomous 10 cylinders, but the Ford GT is America's supercar. Ford's legendary GT40 captured its legacy taking on and ultimately beating Ferrari on the track. The modern GT descendents carry Ford's torch using plenty of inspiration from the GT40.
Mentioning the GT40 is important when diving into the Ford GT's history, but the modern versions are their own segment. The GT40 and GT cars are visibly related, but there are no structural similarities between them. There are two modern generations of the Ford GT.
Introducing the First Generation Ford GT
Ford's Living Legends studio is responsible for bringing the first generation modern GT to life. Chief designer, Camilo Pardo, under the guidance of J Mays, made this concept dreamcar a reality. Beginning in 2005, the Ford GT emerged as a rear mid-engine, rear-wheel drive sports car.
This 2-door coupe features many aesthetic nods to the GT40. However, visual similarities are not the only thing the 2005 and 2006 GT has in common with the GT40. Ford asked Carroll Shelby, one of the guys who worked tirelessly on the GT40, to help develop the GT.
The end result is a GT that is wider and taller than the original GT40. With a height of 40 inches, the original GT40's name flew out the window because the 2005 GT measures 44 inches tall. Ford considered the name GT44 for a while, but ultimately settled on GT.
Of course, the real reason for not naming the modern version GT40 may actually have to do with a trademark issue. At one time, a British company owned the GT40 trademark. They later sold the trademark to a small company in Ohio.
The small company in Ohio, Safir GT40 Spares, demanded 40 million dollars for the right to use the trademark. Why? Because they discovered Ford decided to put the new GT40 concept car into production.
Ford did not cave into the ridiculous negotiation tactic and the rest is history. First unveiled publicly in 2003 as part of Ford's 100th anniversary celebration, deliveries were not until fall of 2004. Each one features a left headlight cluster that reads "100" to celebrate its production during Ford's centenary celebrations.
First Generation Ford GT Production by Year:
Total 2005 Ford GT Production – 2027
Total 2006 Ford GT Production – 2011
Only 4,038 Ford GT models from 2005 or 2006 ever graced the pavement with their existence. If you have never seen one in person, you are not alone. Many owners and collectors take meticulous care of these cars because they were special from day one.
A supercharged 5.4L Ford Modular V8 engine screams to the tune of 550 horsepower in first generation GT models. This is a 90-degree V bank engine design featuring DOHC (dual overhead camshafts) and 32 valves. Even without the supercharger this engine sounds good, but there is nothing wrong with putting icing on the cake.
The first generation Ford GT has plenty of disc brake stopping power to go with the supercharged V8 acceleration. In the front, 14-inch cross drilled and vented rotors go with four-piston monoblock brake calipers. A similar rear setup featuring 13.2-inch rotors round out the Ford GT's ability to stop on a dime.
The 6-speed manual transmission provides a driving experience authentic to Ford's racing heritage. Independent double wishbone front and rear suspension provides precision handling. Having 11.5-inch wide rear tires on a 19-inch rim gives drivers plenty of traction at launch.
Quick Specs (First Generation GT):
550 Horsepower
500 Pound Feet of Torque
0-60 MPH – 3.4 Seconds
¼ Mile – 11.5 Seconds @ 128.7 MPH
60-0 MPH Braking – 114 Feet
Top Speed: 205 MPH
First Generation Ford GT Appreciation
If you want to get your hands on the steering wheel of a first-gen GT, you may have some competition within the market. Expect to see asking prices between $300,000 to $500,000 for most examples. You will also run into many requests to inquire about pricing when browsing for this car.
Not bad considering the original price paid to Ford for a first generation GT was right around $150,000. Even so, many true enthusiasts will not want to part with such an iconic car. If you do not want a first-gen, perhaps the newer second generation Ford GT will speak to you a little more.
Second Generation Ford GT Introduction
With its unveiling in 2015, Ford's plans to begin production on the second generation GT became public. The entire project was a tightly wrapped secret within the company. Inspiration for its design began with aerodynamics focused on creating a triumphant Le Mans race car.
Le Mans racing is part of the GT40's history, it is only natural to honor that tradition. It requires low downforce with an ability to glide through the air to be successful at Le Mans. Many of these cars feature a teardrop profile, which is where the second-gen GT designers began.
With so much focus on the aerodynamic engineering of the newest GT, the powertrain took a backseat. Ford considered many 8 cylinder and even some 12 cylinder options. However, the compact, yet powerful 3.5L twin-turbo EcoBoost V6 took first place due to the freedom it gave engineers.
The power output of this mighty engine varies by year. Earlier second generation models from 2017, 2018 and 2019 feature 647 horsepower. 2020 Ford GT models feature 660 horsepower. A Getrag 7-speed dual-clutch transmission gets this power to the rear tires.
Just like the first-gen GT, the second-gen features a mid-rear layout. This design keeps the center of gravity toward the middle of the car for improved stability. Unique to the second-gen GT is a weight distribution of 43% up-front with 57% in the rear.
Some of the other unique features on the second-gen GT include Butterfly style doors and open airflow tunnels built into the rear fenders. These tunnels, or flying buttresses, create more downforce. The flying buttresses exist because of the compact engine design and the car's pushrod suspension setup.
Even the front of the second-gen GT features a touch of the GT40. The cutaway nose design is familiar while also featuring vents in the hood to pass air over the car. This car is an aerodynamic phenomenon, by design.
An active spoiler provides even more stability as it adapts to different driving conditions. There is even a gurney flap extending from the edge of the spoiler when the car is in track mode. The spoiler will also flip vertically to help stop the car under heavy brake application.
The aforementioned pushrod suspension system is hydraulically adjustable. You can drop the ride height from 4.7 inches all the way down to 2.8 inches. Best of all, the second-gen GT features a front-axle lifting system to help drivers clear obstacles or steep angles, no more scraping.
Handling in the second generation Ford GT is impressive to say the least. Featuring a power to weight ratio of 0.43 horsepower per kilogram, this GT can achieve 1.11 g of lateral acceleration. This is through steady-state cornering on a skidpad, in other words, don't try this at home.
Brembo brakes provide the stopping power using ventilated carbon-ceramic discs. Carbon fiber wheels are optional from the factory while allowing for a stronger, but lighter rim. The second generation Ford GT offers engineered driving performance and pleasure.
Second Generation Ford GT Performance Quick Glance:
0-60 MPH – 3.0 Seconds
0-100 MPH – 6.2 Seconds
0-130 MPH – 10.1 Seconds
0-150 MPH – 14.5 Seconds
0-170 MPH – 21.4 Seconds
¼ Mile – 10.8 Seconds @ 134 MPH
70-0 MPH Braking – 145 Feet
Top Speed: 216 MPH
The limited production of the second-generation Ford GT continues to this day. It began in December of 2016 and Ford plans to continue production until 2022. Production occurs at a low volume assembly facility in Ontario, Canada.
They only produce around one car per production day. Models produced in 2019 were for buyers left out of the initial selection process. 2020 GT models are the first available for new customers.
2020 models received many updates including more power and a titanium Akrapovič exhaust system. Improved engine tuning for 2020 models feature a broader torque band although output remains the same. Just like Carroll Shelby himself, Ford strives to continue improving the GT.
Skyrocketing Asset or Market Driven by Scarcity?
There is no doubt the second generation Ford GT is a special car. A 2017 Ford GT had an MSRP of $500,000. If you want one today, expect to see prices right around a million dollars.
That's right, you read that correctly. This is now a seven figure car. Is the car that good or is it just a byproduct of such limited availability in a market full of demand?
A 2021 Ford GT starts at $500,000, if you can get on the list. If you cannot acquire one new from Ford, your only option may be the used market. Most owners do not put a lot of miles on these cars.
Sitting behind the wheel of a second-generation Ford GT certainly puts you in the driver's seat of one of the most spectacular cars available. Enthusiasts and collectors all want a taste.
Have you heard this engine at full throttle yet? It almost sounds like a jet. This car glides through air and cuts through wind like a knife.
There is a reason for the demand. For those who want to experience it, the admission is definitely worth the ticket. Speaking of tickets, you might want to take it to the track to test its abilities.
No matter which generation Ford GT you are looking at, they are a piece of American automotive history. There really isn't a wrong way to go, as long as you have open road ahead. A lot of it.