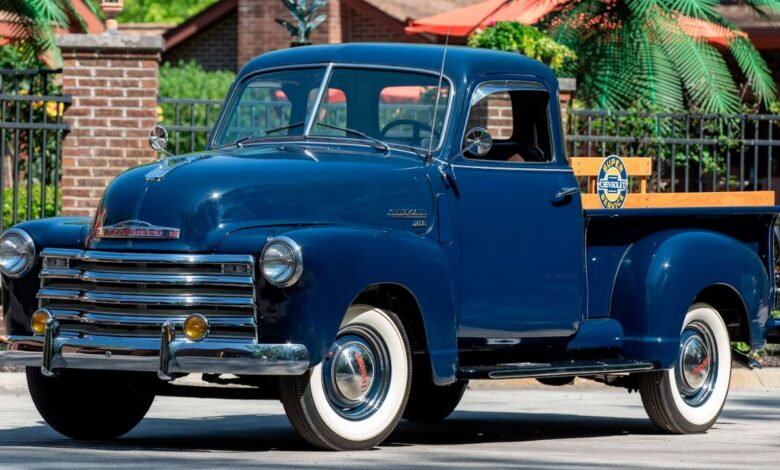 Rolling out their first significant redesign after World War II, the Chevrolet Advance Design medium and light duty truck series launched in 1947. From 1947 to 1955, the Chevrolet Advance Design climbed to the top of the American market, outselling all other truck brands.
Today, Advance Design models such as the Chevrolet 3100 Pickup are highly sought after by collectors and enthusiasts.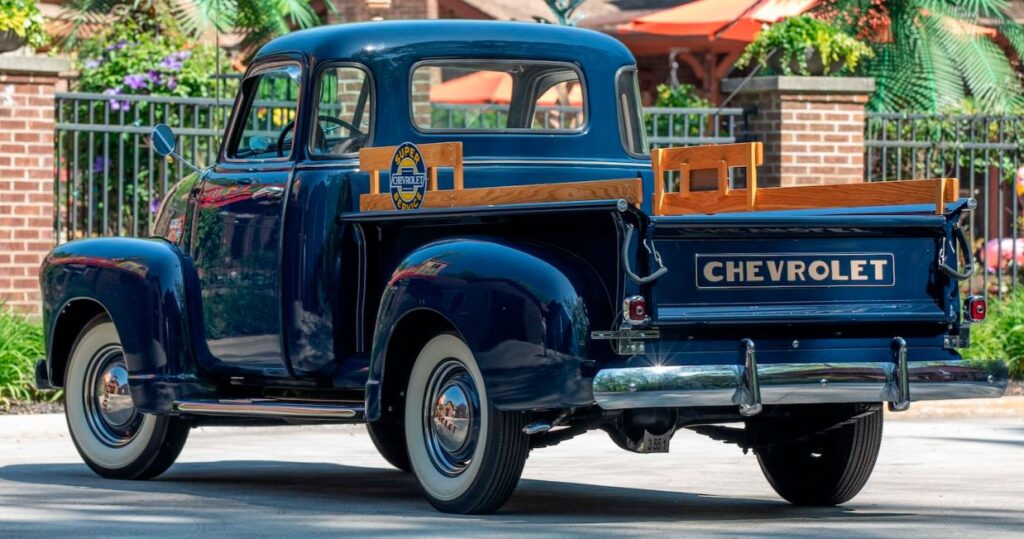 The Chevrolet 3100 Pickup is Chevy's half-ton pickup truck in the Advance Design-era lineup. All Chevy 3100 models feature a 6 foot truck bed, commonly referred to as a short bed pickup. This 2-door pickup features a front engine, rear-wheel drive configuration, also known as an FR layout.
An inline-6 cylinder engine is under the hood of all non-modified Chevrolet 3100 Pickups. General Motors began increasing the size of the engine options throughout Advance Design series production:
1947-1953: 3.5L – 216 cubic inch inline 6
1954-1955: 3.9L – 235 cubic inch inline 6 
1954-1955: 4.3L – 261 cubic inch inline 6
Most Chevrolet 3100 Pickup trucks feature a 3- or 4-speed manual transmission. Some Advance Design series models from 1954 and 1955 feature a 4-speed Hydramatic automatic transmission.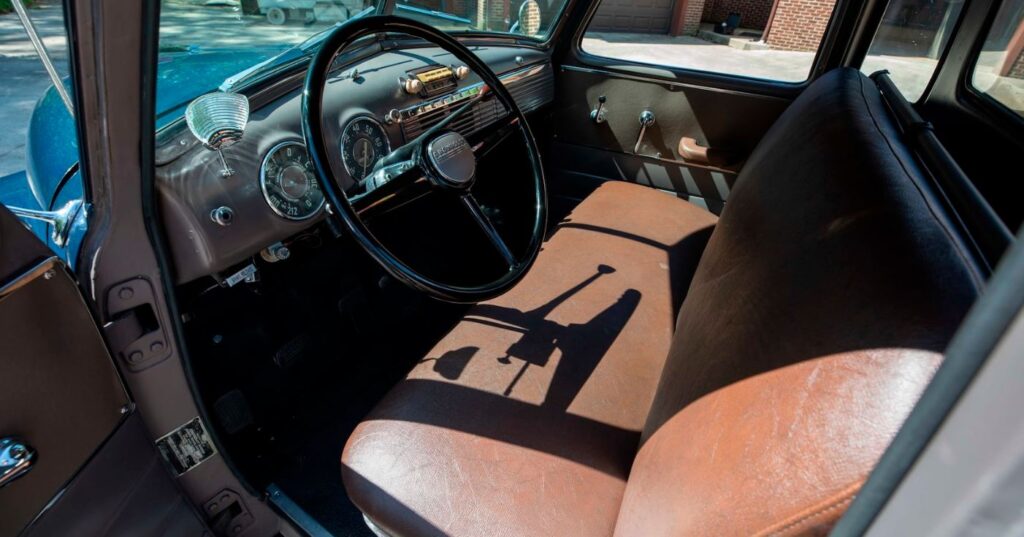 Other than engine updates, GM made relatively minor changes throughout Chevrolet Advance Design production years. Some of the most notable changes over the years include:
1947 – Gas filling hole located on passenger side.
1948 – Manual shifter relocated to column, instead of the floor.
Early 1949 – Gas tank now mounted upright behind seats in cab, filler neck located near passenger door handle.
Late 1949 – Hood emblems replaced the words "Thriftmaster" or "Loadmaster" with cargo capacity numbers such as 3100 on ½ ton models.
1950 – Telescopic shock absorbers replace previously used lever-action absorbers. This was also the last year Chevy used driver's side cowl vents. Door handles changed from a Maroon knob to flat steel handles.
1951 – Vent windows added to doors. A mid-year change redesigned the truck bed to feature 9 boards instead of 8. This was also the last year for the 80 MPH speedometer, chrome window handle and wiper handle knobs.
1952 – Exterior door handles changed from turn-down to push-button handles. 90 MPH speedometer introduced. Painted dashboard trim instead of previously used chrome. Another mid-year change saw Chevy stop using "3100" emblems on the hood. Window and wiper knobs were now Maroon.
1953 – Last year of the 216 inline 6 engine. Hood side emblems displayed the model (3100) only in large print. This was also the last year Chevy used wooden blocks as truck bed supports.
1954 – Major design changes such as a curved, one-piece windshield without a center dividing strip. Redesigned steering wheel and dashboard. Cargo bed rails went horizontal. The rectangular tail lights were now round. Bull-nose grille introduced. A more powerful 3.9L engine replaced the 3.5L. For an additional cost, the Hydramatic automatic transmission became available for the first time.
1955 First Series – A modern open driveshaft replaced the enclosed torque tube, hood-side emblems redesigned again.
The introduction of the 3100 Pickup to the automobile market was exciting. Chevy advertised it as an all-around utility truck offering convenient loading, unobstructed by bulky wheelhouses. They treated all body metal in an attempt to get ahead of eventual rust, but that was 70 years ago.
A sturdy, anti-rattle end gate offered more peace of mind while traveling. Two stake pockets along each side allowed for drivers to extend the sides of their pickup bed. This offered drivers a safer way to tow larger hauls, or allowed them to install canopy tops to protect their cargo.
Standard equipment included a three-speed transmission in earlier models. A four-speed heavy-duty transmission was also available, along with a heavy duty clutch. The heavy duty clutch offered a much larger (10 3/4″) replacement over the standard 9 1/8″ clutch.
One unique feature that separated the 3100 from previous truck models was the larger, roomier cab offering more space. This allowed engineers to fit a 3-passenger bench seat in the cab. The seat even offered a fully adjustable front and rear for more driving visibility.
To modern drivers, trucks offer a combination of practical capability with comfortable convenience. In the era of the Chevrolet 3100 Pickup, trucks were a necessity of utility for businesses, agriculture and construction. The evolution of the modern pickup truck definitely has Chevrolet 3100 fingerprints all over it.
With it's stylish design, seeing the iconic Chevrolet 3100 invokes the nostalgic spirit of generations past. Working alongside those who came together during a time of rebuilding, the Chevrolet 3100 is a reminder of how rewarding hard work truly can be. Setting a goal while grinding to achieve it is the American Dream.
From 1947 to 1955, the Chevrolet 3100 Pickup was America's workhorse. Its fashionable dual round headlights, wide-mouth grille design and seductively curvy hood lines stand the test of time. In fact, Chevy used the 3100 Pickup to inspire the Chevrolet SSR and HHR designs in later years.
Styling alone is enough to give Chevrolet 3100 Pickup trucks character, but each one has its own unique story to tell. There are a wide range of available 3100 Pickups available on the market for those interested in owning a piece of American truck history.
Project trucks are available for under $20,000 if you do not mind putting some elbow grease into it. From there, prices fluctuate based on the vehicle's overall condition as well as possible custom modifications. Expect to see a range between $30,000 to over six figures depending on a variety of factors.
There is nothing quite like enjoying a relaxing Sunday stroll in a vintage Chevy 3100 Pickup. Hope, strength and a willingness to seek opportunity define the classic 3100 truck. In an era where looking to the future is important once again, the Chevrolet 3100 Pickup still stands tall.