Cars
Rev It Up with the 2000 Honda S2000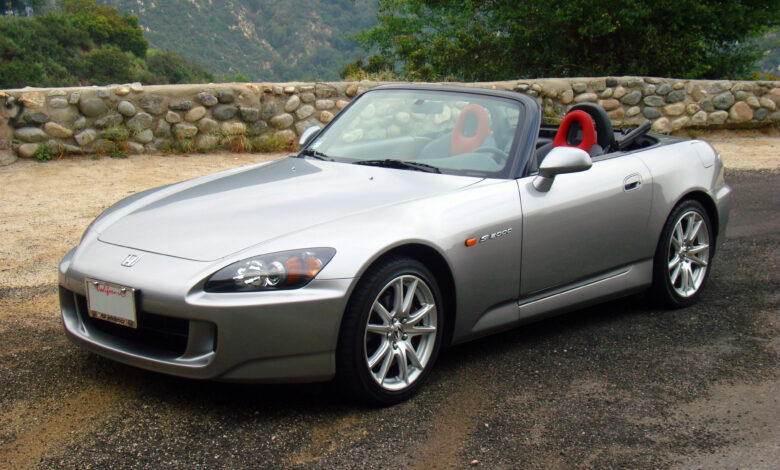 Roadsters offer the freedom of open-air driving on a beautiful day, paving the way to a spirited escape from it all. Many enthusiasts will trace Honda's roots back to their second production car, the S500, a roadster from 1963. Then came the S600 and the S800, more roadsters. The 2000 Honda S2000 was a big hit with it's 2.0L inline 4-cylinder DOHC-VTEC engine and sporty lines.
Honda brings a lot of performance expertise to the drawing table, in the 60s they leaned on their motorcycle engineering. Their high-revving engines offer pure driving bliss in combination with the open-air driving experience.
Fast forward to 1995, you are at the Tokyo Motor Show looking at a new roadster from Honda. It is sleek, sporty, and definitely piques your interest. At the time, Honda calls this concept car the Sport Study Model or SSM.
Development continued after the Tokyo Motor Show until the announcement of a production version took place in 1999. Honda calls the production version the S2000, following the tradition of naming roadster models for their engine displacement after the letter S.
Production S2000 models were finally ready in time to celebrate Honda's 50th anniversary. They officially launched the 2000 Honda S2000 on April 15, 1999. It is a front mid-engine, rear-wheel drive go-kart for adults featuring a 6-speed manual transmission.
Under the hood is a 2.0L inline 4-cylinder DOHC-VTEC engine, this is Honda's secret S2000 formula. At the time, Honda claimed the S2000 had the "highest specific output of a normally aspirated production automobile engine in the world".
VTEC translates to Honda's Variable Valve Timing and Lift Electronic Control technology. Not only does this improve the engine's overall efficiency, it promotes better performance. VTEC engines are able to deliver high performance in the upper rpm range while consuming less fuel in the low rpm range.
There are basically two versions of this VTEC engine in the first-generation Honda S2000. In Japanese market examples, you will find the most powerful version of this engine, the JDM F20C. This engine produces 247 horsepower at 8,600 rpm thanks to its higher compression design compared to the North American and worldwide examples.
With 161 pound-feet of torque available, the JDM F20C quickly became a star in the automotive world. In the end, the JDM F20C produces an impressive 123.5 hp per liter of displacement. It won many awards and remains an extremely desirable engine to this day.
At nearly 2 hp per cubic-inch, it achieved the highest rating of any mass production naturally aspirated engine. The JDM F20C held this record until Ferrari broke it in 2010 with the 458 Italia at 124.5 hp per liter. Honda recently retired from Formula One racing, but this rivalry could have continued there.
As for European and North American S2000 roadsters, they have the USDM F20C. Although it only produces 237 hp at 8,300 rpm, it still has plenty of pep in its step. This version of the 2000 Honda S2000 engine creates 153 pound-feet of torque.
Balancing Power and Performance with Precision Engineering
First-generation Honda S2000 models feature the AP1 platform and chassis design. Some of the highlights include a double-wishbone suspension for your handling pleasure and integrated roll hoops for safety.
Of course, the true genius behind the exceptional handling of the 2000 Honda S2000 is in the engineering and design. This car has a near-perfect front to rear weight distribution ratio of 50/50. Honda achieves this by mounting the lightweight engine completely behind the front axle.
As a result, this car handles like it is on rails. However, you can also push it into an easy drift if you know how to control it. From cornering to sliding around an apex, the S2000 is well-equipped in the hands of a skilled driver.
Driving the S2000 is where the real fun begins, especially on a beautiful day. Should the weather turn while cruising, don't worry, there is an electrically powered vinyl top on the 2000 Honda S2000. Beginning in 2001, Honda made an aluminum hardtop available as an optional extra.
At the very core of the chassis blueprint, Honda uses an X-bone frame design. This improves the overall rigidity of the vehicle while simultaneously making it safer under the stress of a collision.
Stopping power is excellent in the S2000, even with the factory bake setup. Many Honda enthusiasts like to upgrade parts when they are available, but the factory disc brakes get the job done.
Over the years Honda continued to make tweaks to the S2000 during its production. Eventually, they made an AP2 chassis with a slightly larger engine. However, the 2000 Honda S2000 remains on the top of many wish lists, this car is an engineering marvel.
For a 2-door roadster, the 2000 S2000 offers plenty of smiles per mile. It weighs a little over 2,800 pounds at 1,274 kg. This car is agile and zippy while the 6-spd manual allows you to let the VTEC engine scream between every gear.
Appreciating the S2000 More with Time
Honda made a little more than 9,100 S2000 models in the year 2000 alone. There are enough of them in existence to find a few available on the market if you are looking. In 2000, the MSRP of a new S2000 was about $32,000.
Today, if you want to find a 2000 Honda S2000 for sale, you will be competing with an increase in interest. As always, values vary according to factors such as condition, mileage, and maintenance history.
This is a very popular car in the aftermarket tuning community, it has been since day one. This means you are going to see some examples featuring a lot of modifications or, in some cases, upgrades. Always do your due diligence whenever aftermarket parts are present.
Some people save their factory or stock parts and include them with the sale of a vehicle. It never hurts to ask a seller if they still have those parts. Other than that, just gather information about what upgrades it has and why they decided to add them.
In many cases, some upgrades will unlock more potential from the overall performance of the vehicle. If you would rather wait for a close-to-original example to become available, that is okay too.
The amount of miles a classic car has usually plays a big role in determining the value. You may not think a car from 2000 is a classic yet. However, it seems as though the market is beginning to treat the S2000 like it is a classic car.
In other words, sellers are not paying much attention to what the book value says their car is worth. Many popular "bookies" rate the 2000 S2000 with a top value of just under $10,000. If you can find an excellent to pristine S2000 for ten grand, congratulations, you just found the steal of the year.
S2000 sellers know what they have and buyers know they want it. You might find a few drivable 2000 Honda S2000 examples with around 100,000 miles on them for under $20,000. The current floor, before the summer sports car market heats up, is right around $15,000.
If you want one with fewer miles, prepare to pay over $20,000 or even more than the original MSRP. Some select models, including professionally tuned fire-breathing beasts, can fetch over $50,000.
Should you get the itch to browse the Japanese market for an S2000 with the JDM F20C engine, take a number. The more common approach is to buy the JDM F20C engine itself and swap it into an American chassis. JDM F20C engines usually list between a range of $4,000 to $9,000 with the 6-speed transmission.
Whether you have the JDM engine or not, the 2000 Honda S2000 is a blast to drive. Hopping in the driver's seat of any 6-speed manual roadster is usually a good idea, but this one is special. If you dare yourself to drive an S2000, you will probably want to get one.