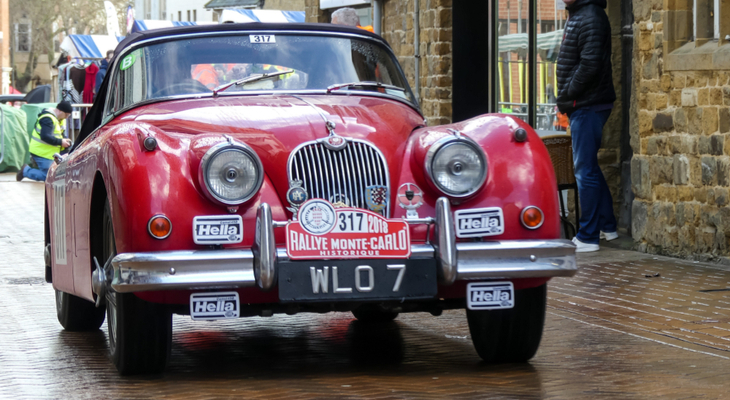 When elegance defines royalty, rolling out the red carpet is an honor. Such is the case with the classy and sporty 1959 Jaguar XK150, proving sophistication has a little wiggle room for leisure. If you're going to have fun, you might as well do it with some style.
Jaguar's XK series of sports cars ends with the XK150. Previous models include the XK120 and XK140. The XK150 features many revisions and upgrades over previous versions, making it the most desirable XK to date.
Driving the '59 XK150 offers a vintage Jaguar experience, fueled by plenty of racing heritage without sacrificing luxury. A front-mounted engine, rear-wheel drive layout offers driving familiarity. Transmission options for a 1959 Jaguar XK150 include a 4-speed manual or an available Borg-Warner automatic gearbox.
With its reputation for being fast, safe and comfortable, the '59 XK150 brings more than just good looks to the ball. Jaguar uses two engine blocks in XK150 models, one of them is a 3.4L straight 6-cylinder. The other is a 3.8L straight 6-cylinder engine.
Both inline engines utilize a DOHC (dual overhead cam) design. Depending on factory options, power ranges anywhere from 190 brake horsepower to 265 bhp. Obviously a 75 hp difference can make a world of difference in a car weighing 3,000 pounds.
Jaguar tunes the engine using a variety of carburetor combinations along with other modifications to achieve different numbers. Newly available for 1959 models, the 3.8L inline 6-cylinder engine offers a substantial performance boost for the XK150. Available from the factory in SE or S models, the 3.8L offers more smiles per mile.
Jaguar XK150 3.8L Engine Performance
SE – Double SU HD6 Carburetors – 220 BHP
S – Triple SU HD8 Carburetors – 265 BHP
If you want to experience a 0 to 60 miles per hour time of 7 seconds in 1960, you drive an XK150 3.8 S with 265 bhp. Keep going and you will discover a top speed of 135 miles per hour. Here is where you are glad the 3.8 S has standard disc brakes, you're going to need the stopping power.
Handling in the XK150 offers a down-to-earth experience where the driver feels the intimacy of the road below. You will not have the convenience of power steering, but it is a rack-and-pinion design for more precision.
Although it was available with drum brakes, Jaguar offered disc brakes on the XK150 from day one. In 1958, they began outfitting SE models with disc brakes as standard equipment. Most export models are SE trim level or better.
Sitting in the 1959 Jaguar XK150 is a nostalgic practice of enjoying the finer things in life. Leather trim, retro gauges, and walnut accents in some models highlight the experience. There is even a little red light to remind you if you leave your parking lights on, a lifesaver in 1959.
Manufactured from 1957 to 1961, the XK150 delivers impressive performance for its era. Jaguar did not make very many of them, but there are enough to meet market demand. Tracking down exact production numbers by year proves difficult, but they made about 9,382 XK150 models overall.
Jaguar XK150 Production by Model from 1957 to 1961
4,445 FHC Fixed-Head Coupes
2,672 DHC Drophead Coupes
2,265 OTS Open Two-Seater Roadsters
Approximately 888 of them are model S designations. Of course, the model S is available in both the 3.4L and 3.8L versions. It is always important to check the fine print when browsing for a peppier model S.
Jaguar Hunting
If you would like to get your hands on this elusive Jaguar, it is open season. Depending on the condition and which species of the XK150 you prefer, there are plenty of opportunities to add one to your collection.
There are a few things to consider when searching for a 1959 Jaguar XK150 for sale. First of all, are you looking for a fixed-head or drophead coupe? Maybe you want one of the roadsters instead.
Next, how much horsepower do you want? Do you want a manual or automatic transmission? Finally, do you want a pristine all-original example, a project car, or something in-between?
If you do not mind a little wrench time, you can find a '59 XK150 in need of a little TLC for just under $30,000. Incomplete project cars hover around $20,000. From here, values vary according to specific details.
Some of the most extraordinary 1959 Jaguar XK150 examples fetch well above the six figure baseline. It is possible to spend more than $200,000 for the right '59 XK150. Average prices for clean examples are right around $60,000 to $90,000.
This is an iconic car from the prestigious English automaker. Although it is desirable, there are enough of them to keep prices somewhat reasonable for a vintage Jaguar sports car. Yet, this car is rare enough to garner plenty of attention everywhere it rolls.
Finding your 1959 Jaguar XK150 is a scenic experience considering there are enough of them in existence. This Jaguar is in no danger of going extinct in the near future. Happy hunting.