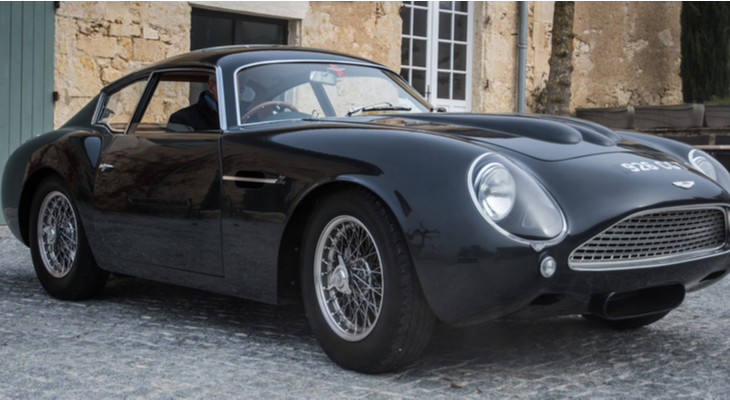 When some of the best automotive minds in the world work together on projects, the Aston Martin DB4 GT Zagato happens. Built as a collaborative effort between Aston Martin and the Italian coachbuilding company Zagato, this is an elegant grand tourer coupe. Unfortunately, they only built the original Aston Martin DB4 Zagato from 1960 to 1963.
Aston Martin's DB4 GT is already a fine automobile in its own right. After spending time under the roof of the Zagato factory, the DB4 GT emerged lighter and better.
Under the hood, or bonnet is a 3.7L aluminum straight 6-cylinder engine featuring a dual overhead cam (DOHC) design. It has a higher compression ratio than regular DB4 GT engines. After the Zagato tuning, this engine produces 314 horsepower.
This is a sporty and pleasurable driving experience, especially for the era. The Aston Martin DB4 GT Zagato can go from 0 to 60 miles per hour in 6.1 seconds while achieving a top speed of 154 mph. Some modern cars are still limited to a top speed of about 155 mph.
Shifting the 4-speed manual transmission while feeling the power delivery to the rear wheels provides a familiar driving experience for enthusiasts. This car is from an era when you can really feel the road through the vibrations of the machine.
Ercole Spada of Zagato began shedding weight by replacing steel components with aluminum. When compared to steel, aluminum is lightweight and has more resistance to heat. He also made the body smaller in size and more aerodynamic.
Between removing the bumpers and using lightweight materials, Zagato shaved 100 pounds off the DB4 GT. At 2,701 pounds, this is an agile machine for its era.
Believe it or not, four of the DB4 GT Zagato cars built were even lighter, specifically for racing. The Aston Martin DB4 GT Zagato race cars have distinguishing features such as a lower roofline and a larger rear wing. If you compare the bodies, the race car versions have a longer nose and a reshaped tail design.
The racing team made several modifications to the engine throughout the years as well. This is a common practice in motorsports. Tweaking to find any kind of competitive edge is what it's all about, as long as you stay within the rules.
Plans Can Always Change
Zagato's original plan was to make 25 versions of their DB4 GT. Sadly, there was not enough demand to support this kind of production. In the end, rumors suggest Zagato settled on making about 19 of them.
In later years, beginning in 1988, Zagato took four regular DB4 GT models and began the process all over again. These four cars are officially the Sanction II Aston Martin DB4 GT Zagato models.
By 1992, Zagato's factory still had two remaining DB4 GT body shells. After a lengthy approval and building process, the Sanction III Aston Martin Zagato cars were ready in the year 2000.
Since then, many builders turn regular DB4 GT models into Zagato replicas, but there is no replacement for the real thing. Although imitation can be one of the highest forms of flattery, there is no substitute for authenticity. People want the actual Zagato models, they are highly desirable.
Aston Martin Works, the heritage division of the British automaker, decided to bring the classic back with a few updates in 2019. Each one of these 19 newly available models will feature a 4.7L engine instead of the original 3.7L version. The updated motor produces 400 brake horsepower for a more thrilling driving experience.
This "newer" Aston Martin DB4 Zagato is only available through the DBZ Centenary Collection. The package includes an Aston Martin DBS GT Zagato, the modern version of the legendary car.
Exclusive and Elusive
Getting your hands on one of the authentic original Aston Martin DB4 GT Zagato is becoming more difficult each year. Including the Sanction II and Sanction III models, there are only 25 of them. This is blank check territory.
Finding an Aston Martin DB4 GT Zagato for sale does not happen every day. When you do find one, make sure you know whether it is a replica before making any decisions.
Keep in mind, if you are in the market for an original model, you need to do your due diligence. There are many excellent and honest replica builders out there who will tell you what it is, up front. This is a world full of snakes as well, be wary of sellers trying to pass a replica off as being authentic.
After properly verifying its authenticity, the real McCoy can fetch over $10 million. Actual sales data shows $14,300,000 for one of the 19 authentic first-run DB4 GT Zagato models.
If you can find a Sanction II or Sanction III example available, it could be the chance of a lifetime. If you have to ask how much, chances are you cannot afford it. You will not see a listed price tag on one of these models, they are priceless.
In other words, do not even bother looking for a Sanction II or Sanction III Aston Martin DB4 GT Zagato price. If you are ready to buy and one becomes available, the seller will be happy to discuss more details with you.
Other than that, if you do not mind driving a replica, you can find them in the six-figure range. Expect to see a lot of replica examples starting at $200,000. They are still gorgeous cars that garner a lot of attention.
Whether you have an authentic or replica Aston Martin DB4 Zagato, it is a piece of automotive history. If you are fortunate enough to own an authentic Zagato DB4 GT, congratulations are in order. You own one of the most beautiful cars on this planet.
From collections to museums worldwide, the Aston Martin DB4 Zagato still proves what is possible when great minds think alike. Classy styling and racing performance belong together. This classic collector's car is a shining example.