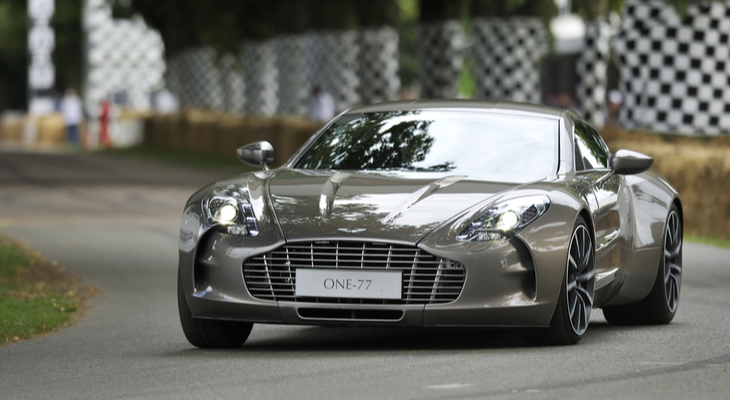 Exclusivity has its price, as does engineering one of the finest Aston Martin sports coupes in existence. The Aston Martin One-77 carries the dignity of several prestigious awards for its design alone. After all, the One-77 features carbon architecture tailored in a designer suit, but the seduction does not end there.
Making its debut at the 2008 Paris Motor Show comes with an asterisk for the Aston Martin One-77. A Savile Row tailored skirt kept the One-77 under wraps for pretty much the entire show. The public was not really able to catch a glimpse of this gorgeous design until the 2009 Geneva Motor Show.
At that time, Aston Martin announced One-77 deliveries for the beginning of 2011. They would build 77 total One-77 cars, hence the name one of 77. The official production window for the One-77 ran from 2009 to 2012.
Marek Reichman deserves recognition for the beautiful bodywork design. There are even swan doors to ensure you clear curbs when entering or exiting the vehicle. The One-77 features a front-engine mount with rear-wheel-drive for a familiar 2-door sports car driving experience.
Aston Martin began with a full carbon fiber monocoque chassis wrapped with a handcrafted aluminum body. Their goal is always to keep the foundation as lightweight as possible without sacrificing rigidity or performance. Mission accomplished through precision engineering as the bulk of the weight in the final product comes from luxurious additions.
From there, why not use what was the most powerful naturally aspirated production engine in the world at the time? Aston Martin chose the 7.3L AM Cosworth V12 engine for the One-77. This 446.2 cubic-inch V12 produces 750 horsepower with 553 pound-feet of torque.
Although there is a 6-speed in the One-77, you will not find a clutch pedal. Aston Martin uses a 6-speed Graziano automated manual transmission in the One-77. It is a bit of a tap-and-go kind of experience.
Of course, it will not take you very long to get wherever you want to go in the One-77. It can go from 0 to 60 miles per hour in 3.5 seconds. Keep going and you will reach the top speed of 220 mph.
Handling in the One-77 is also top-shelf. A height-adjustable pushrod suspension system synchronizes with dynamic stability control to hug those curves. Having 255/35 Z20 rubber in front with 335/30 Z20 tires in back keeps you grounded.
Then again, there is nothing subtle or down-to-earth about owning or driving an Aston Martin One-77. Even if the driver is as humble as can be, the One-77 boasts a reputation that says otherwise. Every enthusiast can spot the One-77 from a mile away.
Aston Martin One-77 Dimensions:
Wheelbase – 109.9 inches or 2,791 mm
Length – 181.1 inches or 4,601 mm
Width – 86.8 inches or 2,204 mm
Height – 48.1 inches or 1,222 mm
Curb Weight – 3,594 pounds or 1,630 kg
The Q-Series: 007
At the end of its production lifespan, Aston Martin's Q program made seven special editions of the One-77. These versions of the One-77 feature unique liveries setting them apart from the others. There are no mechanical differences, just aesthetics.
Eventually, Aston Martin returned to the drawing board to create the 2020 Aston Martin Victor based on the One-77 chassis. The Victor features slightly more power and an authentic manual transmission for your driving pleasure.
Chasing Myths  
Once upon a time, there were 77 of these exclusive Aston Martins in existence. In 2012, a crash in Hong Kong reduced the number to 76. Accidents only make it even more difficult to acquire the One-77 if you are in the market.
If you want to find an Aston Martin One-77 for sale, you should begin a global search. This is a seven-figure car no matter which continent you find one on. For the most part, expect the $3 million range to be the starting point for negotiating.
More than likely you will see listings for the One-77 requesting you to inquire about pricing. The old saying is, if you have to ask, you can't afford it. That definitely holds true with the One-77.
Writing a blank check for the One-77 will feel justified once you hear the purr of the V12. Every drive is a thrill waiting to happen in this Aston Martin coupe. Just be careful not to get too carried away.
The problem is that the One-77 reaches 100 mph effortlessly. Once the speedometer hits triple digits, the suspension lowers while the rear spoiler rises. You may have a little extra downforce but it still will not help you avoid speeding tickets.
Don't worry though, the Aston Martin One-77 features carbon-ceramic brakes. You should be able to slow to a stop just in time for the sirens to catch up to you. You better get your license and registration ready for this one.