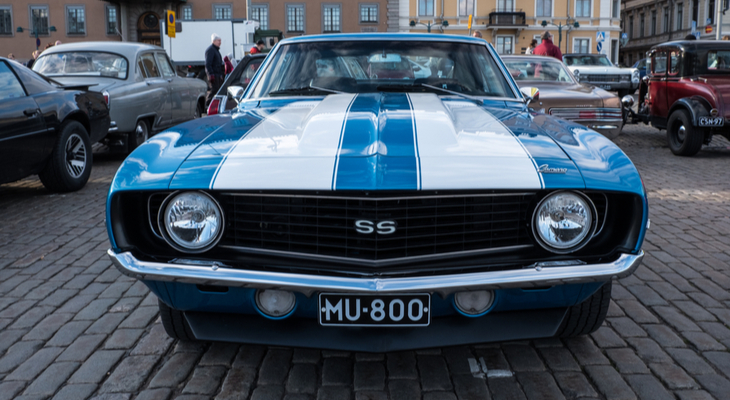 Chevy's SS badge means something, especially to anybody lined up across from one at the starting line. That intimidating factor breathes fire into the very heart and soul of Camaro SS models. It all began with the first generation Chevy Camaro SS, produced from 1967 to 1969.
The SS performance package features more powerful engines combined with improved handling through chassis upgrades. These Super Sport (SS) upgrades are necessary to accommodate the characteristics associated with adding more horsepower or heavier engines into a chassis design. In layman's terms, the end result is a car that is much more enjoyable to drive than a standard model.
Camaro SS models also received stylish aesthetic upgrades over base models. SS configurations featured non-functional air inlets on the hood along with unique striping, badging and grilles. Other notable features include SS emblems on the front fenders, gas cap and steering wheel horn button.
Chevrolet's stylish SS accents are different from their optional RS visual package. Consumers could order both the SS and RS options from the factory. These models are Camaro SS/RS editions.
Whether you classify the Camaro as a pony car or pure muscle, Chevy's two door coupe helped define an era. In the late 60s, with the American muscle car era revving into the redline, Chevrolet launched the Camaro to compete with the Mustang. Available as a hardtop or convertible, the first Camaros proved popular, to say the least.
Rivalries make competition more interesting, and personal. Since inception, the Camaro SS is Chevy's answer to some of Ford's best Mustang models. To this day, this rivalry runs like gasoline through every enthusiast's veins, combustible with the smallest spark.
In fact, members of the automotive press once asked Chevrolet what a Camaro is. Their response dubbed a Camaro as a small, vicious animal that eats Mustangs. There is nothing quite like stirring the pot before a big showdown.
Perhaps the most memorable standoff occurred upon the launch of the first generation Chevrolet Camaro in September of 1966. Preparing for the upcoming '67 model year, Chevrolet's concerns regarding the Mustang's runaway success meant the arrival of the Camaro. Chevy definitely made a sizable dent in the Mustang market with 220,906 Camaro models sold in 1967.
1st Generation Camaro Sales
1967 – 220,906 Sold
1968 – 235,147 Sold
1969 – 243,085 Sold
There were several engine options available for the first Camaro upon its release. Options included a wide range of 6 and 8 cylinder engines. Engine swapping became a very popular muscle car modification thanks to cars such as Chevy's Camaro.
One of the factory versions of the first generation Camaro featured super powers in comparison to the base model. Camaro SS models received the 350 cubic-inch V8 as standard equipment. With 295 horsepower and a 0 to 60 time of 6 seconds, first-gen Chevy Camaro SS models hit the road running.
First Generation Camaro SS Factory-Installed Engine Options:
1967-1969 – L48 – 350 Cubic Inch 5.7L V8 – 295 HP (1969 – 300 HP)
1967-1969 – L35 – 396 Cubic Inch 6.5L V8 – 325 HP
1968-1969 – L34 – 396 Cubic Inch 6.5L V8 – 350 HP
1967-1969 – L78 – 396 Cubic Inch 6.5L V8 – 375 HP
Chevy's legendary small-block 350 V8 engine made its debut in the 1967 Camaro SS. A larger 396 cubic inch big-block V8 was available as an optional upgrade in first-gen Camaro SS models. With 375 horsepower, the L-78 396 V8 is the most desirable original, factory-installed engine in the Camaro SS for many collectors.
There are also two other 396 cubic inch V8 engines in first-gen Camaro SS models, but they do not have as much horsepower. The L-34 396 had 350 horsepower and the L-35 396 had 325. From 1968 to 1969, an aluminum cylinder head option was also available for the special L-78 396, reducing weight by 100 pounds.
The standard transmission in first generation Camaros was a column-mounted 3-speed manual. An optional 2-speed Powerglide automatic was available in any model. A 3-speed Turbo 400 automatic transmission was optional with big-block equipped Camaros.
First Generation Camaro SS Production Numbers:
1967 – 34,411
1968 – 27,884
1969 – 34,932
Are you ready to kick the tires on a first generation Camaro SS? There are still a lot of them available and you will have fun narrowing down what you are looking for. Completely original Camaro SS models still exist, for the right price.
You will also find a wide variety of creativity and innovation from some of the world's best restoration-modification specialists. Everything from modern drivetrain transplants to more aggressive exterior styling is available in the first-gen Camaro SS market.
With values around $40,000 all the way up to six figures, deciding what you want is the first step. First-gen Camaro SS projects are even available well below $40k, if you do not mind using some elbow grease.
For drivers behind the wheel of a vintage Camaro SS, the experience offers an authentic taste of American muscle nostalgia. From classic car shows to drag strips everywhere, the first-gen Camaro SS is highly regarded as one of the all-time greats. It definitely started a legacy that continues to this day.
Of course, Chevy's unofficial response to describing what a Camaro is almost defines its very existence. Over 50 years later, this rivalry is still heating up. In some ways, Chevy may have started the war by suggesting Camaros eat Mustangs.
Regardless of how it started, the end of this rivalry is not visible quite yet. The intertwining destiny of these two machines continues in the present while the old warriors reminisce about the golden age of muscle. Every classic Camaro SS yearns to revisit the glory days once again, it's up to you to fire the engine up.
The only question is, do you want a pony car or a pony killer? First-gen Camaro SS models equipped with the big-block L-78 V8 are always hungry and they only want to eat one thing…