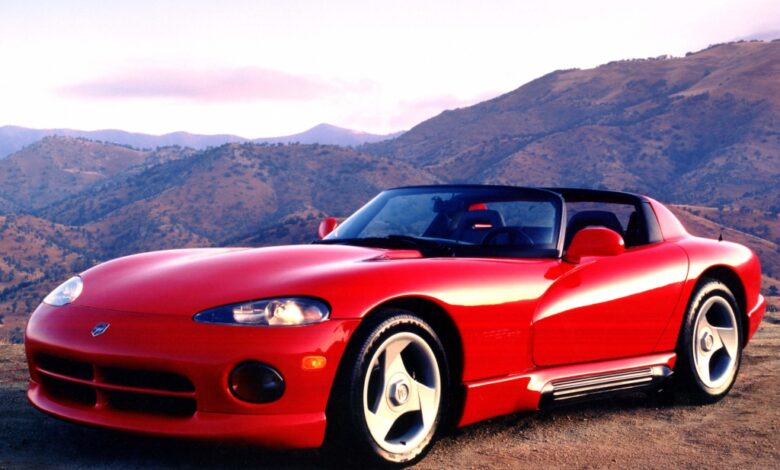 When some snakes bite, there is no anti-venom available. Such is the case with the 1992 Dodge Viper RT/10. As unforgiving as the Viper is to drive, there is never a shortage of drivers eager to get behind the wheel.
In the world of hot rods, finding a way to squeeze the biggest engine possible into a car is nothing new. That's not exactly how the Viper came into existence but it certainly is the perfect example of American ambition. From its inception in 1988 to the first retail delivery in January of 1992, the Viper overcame a few obstacles.
Choosing the name Viper for this concept car traces back to the original inspiration for this car. Bob Lutz, the president of Chrysler at the time, suggested a new idea to one of their designers, Tom Gale. He wanted them to produce a modern version of the Shelby Cobra.
By 1989, Chrysler unveiled the Viper concept car at the North American International Auto Show. Public reception was so overwhelmingly positive that Chrysler decided to make the Viper into a standard production vehicle.
At the time, automotive industry legend Lee Iacocca was the chairman of Chrysler. He delayed approval of the $70 million necessary to put the Viper into production. Iacocca had concerns they would not see a healthy return on the investment.
That was not enough to stop chief engineer Roy Sjoberg from selecting members for the "Team Viper" development crew. Development of the Dodge Viper officially began in March of 1989.
There are a lot of things to love about the 1992 Dodge Viper RT/10. However, the real star of the car is under the hood. Any fan of the V8 muscle car era will appreciate driving a Viper, it is modern muscle on steroids.
First-generation Vipers offer an exhilarating driving experience with 10 cylinders firing like the roar of a blood-thirsty beast. This is a demon's ride, speeding ahead fearlessly, laughing in the face of fate itself.
Should you succumb to temptation, ripping the throttle wide-open in a '92 Viper RT/10 will reveal the presence of the divine. You can just as easily be one mistake away from meeting your maker.
There are no driving assists in a first-gen RT/10. You do have complete control over the 8.0L V10 engine thanks to a 6-speed manual transmission. Believe it or not, Lamborghini played an important role in the development of the Viper's engine.
Lamborghini was a subsidiary of Chrysler at the time. They basically took the old Chrysler LA V8 engine design and instructed Chrysler to use aluminum. By autumn of 1989, they had a prototype running.
Although they did use a V8 engine in the original test car, the decision to go with a V10 in the end was wise. It is what sets the Viper apart from the other major American sports cars. This car represents the big leagues.
In February of 1990, things really began coming together for Team Viper. They finally had a working V10 engine ready to test in the car. Lee Iacocca finally approved the project in May of 1990, there was no stopping the Dodge Viper now.
A year later, Carroll Shelby himself had the honor of driving the first pre-production Viper as the pace car at the Indy 500. The two-seater sports car proved to be a hit in the industry before it even became available to the public.
With an initial price range between $50,000 to $60,000, the Americans did it again with the Viper. Just like Chevy's Corvette, you could compete with expensive supercars while spending a lot less.
Letting the Snake out of Its Cage
Built on the SR 1 platform, the 1992 Dodge Viper RT/10 is a roadster with a removable top. Original Vipers feature a canvas roof. The open-air option comes in handy considering no '92 Vipers came with air conditioning from the factory.
A little later in the year, Dodge began making a fiberglass hard-roof cover option available. This fiberglass roof simply covers the canvas but it is the same color as the car. The Viper's body is also made from fiberglass.
Inside the Viper, there are manual-adjustment leather bucket seats featuring lumbar support. Although you do not really drive a Viper for comfort, it is a nice thing to have. If you don't want to hear the beautiful exhaust note, there is an AM/FM stereo with a premium sound system.
Keep in mind, this car is all about high-performance driving. That's why there are not a lot of bells and whistles. If you just love to drive, you won't care that it does not have butt warmers.
With 400 horses waiting to run, this 8.0L V10 represents the tip of the iceberg when it comes to the Viper's legacy. It may not compare to modern standards but for its time, it is quite impressive. This is a naturally aspirated V10 engine although many people love throwing forced induction at their Vipers.
Thanks to the aluminum materials, this massive engine only weighs 712 pounds or 323 kg. It creates 400 horsepower at 4,600 rpm. As for torque, it can send up to 465 pound-feet to the rear wheels at 3,600 rpm.
Fire it up, it's time to drive. The 1992 Dodge Viper RT/10 can go from 0 to 62 miles per hour in 4.2 seconds. It can reach 100 mph from a dead stop in only 9.2 seconds. In its stock form, this is a 12-second car.
Take it to the track and you should be able to clock the quarter-mile in 12.6 seconds with a trap speed of 113.8 mph. It can reach a top speed of 165 mph but that doesn't mean that you should. Without proper driving technique, you will lose control of the '92 Viper at higher speeds.
Not that you need any more opportunities to push a Viper to the limit but it can corner well. In fact, the SR 1 RT/10 can achieve close to one lateral g when cornering. Keep in mind, this is a rear-wheel-drive sports car, if you do not know what you are doing, don't push it.
As seductive as the Viper is, there are consequences if you do not respect the machine. Get to know a car like this on an intimate level as a driver and it will reward you. If you go into the experience with too much confidence, this snake will bite you.
Catching the Elusive Viper
Ever since Dodge ceased production of the Viper, values continue to skyrocket. You could find them for much more reasonable prices only 5 years ago. Times have changed.
If you want to find a 1992 Dodge Viper RT/10 for sale specifically, it might prove difficult. They only made 285 of them in the first year of production. When they do become available, sellers often list them for more than $200,000.
Whether sellers are willing to let them go for less is up to them. The fact remains that perceived values are climbing for Vipers. For example, check out this Bring A Trailer auction from December of 2020 for a '92 that sold for $110,000.
Ultimately, the market sets the value through supply and demand. All it takes is for one buyer to say yes at a higher price before several sellers attempt to find another. If you feel conviction about a specific car, the only way to acquire it is to purchase it.
Luckily, there are still some Vipers available for well under six figures. It just may not be one of the original models from 1992.
Here is a little industry tip, you can get the same experience from a 1993 or '94 Viper RT/10. Some '94 and '95 examples might even have A/C if the original owner purchased the option. The best part is you can find 1994 Dodge Vipers for sale right around the $30,000 to $60,000 range.
Of course, as always, the overall condition of the vehicle will impact the asking price. Getting your hands on a first-generation Viper is a sure-fire way to have some fun on a weekend cruise. Enthusiasts everywhere will appreciate seeing the Viper ruling the tarmac whenever you drive it.
There is no way of knowing for sure whether Dodge will ever bring the Viper back. For now, it seems unlikely. That doesn't mean it will never happen, the Viper survived a brief hiatus before.
The best way to remember the Viper is to drive it. When you feel the wind whipping around you while hearing the angry growl of the V10, nothing else matters. These are the experiences that make driving euphoric.