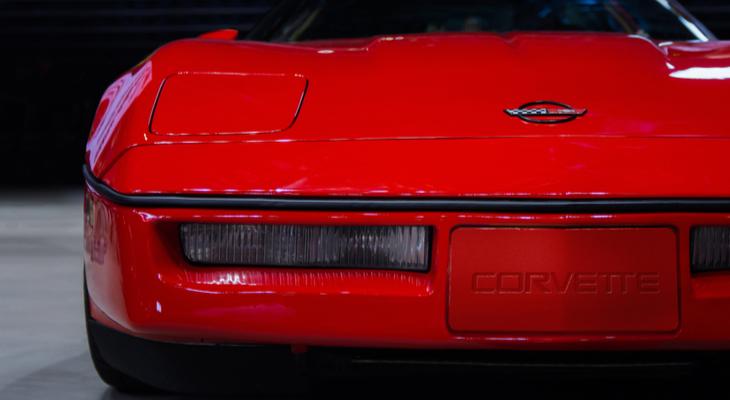 As stylish as it was, the predecessor to the 1984 Chevrolet Corvette left plenty of room for improvement. More specifically, the somewhat loose handling of the C3 Vette was about to get a lot better. Chevy began with a new chassis, essentially redesigning the Corvette from the ground up.
With the Corvette now entering its fourth generation of production, 1984 brought the first installment of the C4 era. Updated styling, new technology, and a 350 cubic-inch V8 engine highlight the features.
Inside the '84 Vette, you will find an electronic dashboard featuring a digital LCD display. If this car does not give you 80s nostalgia, nothing will. Look up to see the removable targa top roof and you will already feel the itch to drive.
Open air driving is not optional in the 1984 Chevy Corvette, on a beautiful day you are going to remove the roof. This is the Vette life. The removable roof is fiberglass or there is an optional see-through acrylic version available.
Staying true to vintage Corvette tradition, the '84 Corvette still has retractable headlights. Instead of featuring a quad headlamp design, the C4 is the first Vette to feature a single headlight on each side.
Unfortunately, the 1984 Corvette's performance took a slight hit due to emission regulations. In fact, many enthusiasts despise the Crossfire injection engine setup in the 1984 Vette. It is difficult to tune more power out of it without major modifications, most people just swap a new engine in.
You will still have plenty of fun driving this car, after all, it is a Vette. Just enjoy the smooth powerband while mastering entering or exiting corners and you will forget it is a bit underpowered. Chevy focused on handling and braking performance in early versions of the C4.
Under the hood is a 5.7L 350 cubic-inch V8 engine producing 205 horsepower with 290 pound-feet of torque. It can go from 0 to 60 miles per hour in 6.6 seconds while reaching a top speed of 142 mph. Obviously, there is plenty of torque to keep this 3,300-pound chassis moving should you need to pass slower traffic.
Shifting gears in the 1984 Vette is an adventure by itself if you have the 4+3 Doug Nash manual transmission. This is a unique transmission but you get used to it fairly quickly after figuring it out. It is essentially a 4-speed manual with 3 gears of overdrive available when you push a button.
The other transmission option for the '84 Vette is a little more self-explanatory. It is a 4-speed automatic transmission. This is the hop in and drive option but many purists will advise you to check out the Nash 4+3.
Handling is Where the C4 Shines
Since power output was a bit undesirable, Chevrolet made sure the C4 was special in other ways. They used a lightweight, independent suspension design all around the car.
In the front of the '84 Vette, you will find transverse fiberglass mono-leaf springs. These weigh approximately 66% less than traditional coil springs. They also create more stability, having a similar effect as an anti-roll bar.
Chevy also offered an optional Z51 performance and handling upgrade from the factory. 1984 Corvettes with the Z51 package can still clean up at autocross events any given weekend.
In the past, Corvettes featured separate body-on-frame construction. For the first time in the segment's history, the '84 features uniframe construction. Do not confuse this method with a unibody frame, they are slightly different.
The GM uniframe on the C4 features a traditional frame with the following components welded into a single assembly:
Door Posts
Windshield Frame
Halo U-Shaped Frame Overhead Behind the Seats
Rear Portion of the Floor Pan
Due to the unique construction of the C4 chassis, the door sills are quite deep. Climbing in and out of a C4 Corvette is a struggle sometimes. The reward is you are sitting extremely low to the ground, almost feeling as though you are hovering right above it.
As with any classic sports cars, driving this 2-door coupe comes with its quirks. You will notice the heat of the drivetrain right next to your leg, for both the driver and passenger. It actually feels pretty nice on a cool night with the top off.
Hopefully the power antenna still pops up and retracts as it should but many people put aftermarket stereos in the C4 now. Many relays need replacing in this car over time, other than that it is a reliable setup. Although lacking power, the Crossfire engine is still a bulletproof Chevy 350.
In many ways, the C4 is the first version of the Corvette that could compete with more expensive sports cars. It could pull off a skidpad lateral acceleration of .90 g in 1984, more impressive than Porsche or Ferrari at the time. It was also the fastest American car available in 1984.
Braking power is excellent in the '84 Corvette thanks to its Girlock four-wheel disc-brake system. You will only need about 73 feet to go from 70 to 0 mph in a stock '84 C4.
Considering the engineers publicly were trying to compete with the Porsche 928, the Corvette definitely flexed its muscles. This is the quintessential 80s American two-seater experience.
It is also a bit luxurious thanks to the power backrest sport seats. Enjoy the comfort of setting the lumbar and bolster adjustments exactly where you like them. All systems go.
Ironically there is no 1983 Corvette. There is an '82 and an '84. The 1982 Corvette was the final year of the C3 or third-generation production. Chevy made sure to perfect the formula during the brief hiatus.
The third-generation Corvette suffers from a reputation of sloppy steering travel with a wobbly rear end. Chevy definitely solved that with the C4, precision steering and handling are two of its strongest characteristics. Just drive the two generations of these Vettes back-to-back, you will quickly see it for yourself.
Fate may tempt you to keep pushing this car around corners and it will shockingly hook up time after time. If you do get the rear end to give out, it will be a controllable slide for an experienced drifter. This is not advisable to a majority of drivers out there, many overconfident people wrecked their C4s over the years.
Getting Your Hands on the 1984 Motor Trend Car of the Year
Luckily, there are still quite a few '84 Vettes in existence. In fact, finding a 1984 Chevrolet Corvette for sale is fairly easy. GM produced approximately 51,547 of them in '84.
With an original sticker price of $21,800, it was far more affordable than the Porsche it was competing with. It was about half the price of a brand new 928 in 1984. Today, you can find an '84 Vette within a very wide range of pricing.
On the low end of the spectrum but still drivable are clean examples for right around $10,000 to $20,000. In the middle, you will find '84 Vettes worthy of car shows but not necessarily pristine. These will list for $25,000 and up, depending on condition.
The cleanest and most unique '84 Corvette examples list for over $50,000. You will find some all-original examples and many with modifications.
Believe it or not, there are a lot of project opportunities out there for under $10,000. If you do not mind a little elbow grease, you can build a nice little weekend cruiser. Many of these examples are still driveable but require minor to major maintenance.
Once you drive an '84 Corvette, you will see the appeal. It may not be the fastest one out there but it still offers plenty of smiles per mile. From the rear-opening hood to the signature dual round tail lights, this is a pure Corvette.
To fully Vette yourself, you have to own one to join the club. If you already have a few Vettes but not a C4, you might want to check one out. They are affordable and offer guilt-free classic car driving.
If you are still looking for your first Vette, 1984 is not a bad place to start. If nothing else, it will give you a chance to see what the hype is all about. If you can avoid speeding tickets it should be a positive experience.