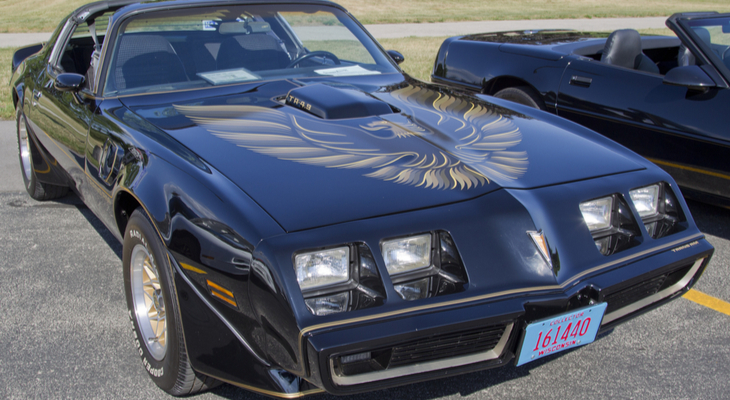 Getting away from Smokey is easy, as long as you have a 1977 Pontiac Firebird Trans Am. Although Burt Reynolds is the name on the ticket, a '77 Trans Am is the star of Smokey and the Bandit.
Of course, not every 1977 Firebird is bandit approved. To make a clean getaway, you're going to want the '77 Trans Am Special Edition. Often referred to as the Bandit package, the Special Edition 1977 Trans Am is the car from the movie.
With its signature black exterior finish, the golden Firebird decal on the hood matches the pinstriping on the Special Edition. Matching dual gold front grilles cap it off with even more style. In fact, the golden accents of the 1977 Pontiac Trans Am continue inside and out on this iconic car.
From the 15-inch snowflake rims to the detailed interior, gold trim really sets the '77 Special Edition Firebirds apart. The Bandit edition 1977 Firebird is available with or without T-tops. If you opt for the T-tops, Sally Field might flip Smokey a Firebird of her own if she is ever a passenger.
Pontiac's legendary F-body, front-engine, rear-wheel drive platform is a favorite among enthusiasts. When designing the facelift for the 1977 Firebird, Pontiac's decision to use a distinctive slanted nose remains timeless. Coming in at the tail end of the Firebird's second generation, many argue the '77 is the cream of the crop.
The Firebird's updated styling gave it a sneak peak of 80s fashion. GM continued using round headlights in the Firebird's cousin, the Camaro. However, the four square headlights found in the 1977 Firebird are ahead of its time.
Gaining Separation from Smokey with the Bandit  
Under the hood, the 1977 Pontiac Firebird has nothing left to prove. Leaving Sheriff Justice in the dust takes care of that. A Pontiac 400 cubic inch V8 powers the '77 Firebird Trans Am, the rest is cinematic history.
Base model 1977 Trans Ams feature 180 horsepower. An optional W72 handling package increased the 6.6L V8's output to 200 hp with 325 pound-feet of torque.
The easiest way to tell these two engines apart is by popping the hood. W72 packaged engines have chrome valve covers, while the standard V8s feature painted valve covers.
By modern standards, this engine lacks a bit of power, but it was enough to evade Smokey back in the day. Buyers in 1977 enjoyed the option of a 4-speed manual transmission or a Hydra-Matic automatic.
A single 4-barrel Rochester Quadrajet carburetor keeps the engine running hot in W72 Trans Ams. Pontiac made 7,392 Special Editions with the W72 package for 1977. They made 18,785 non-Special Edition W72 Trans Ams for the same model year.
Overall, every Trans Am from 1977 features a V8 engine. There are plenty of 6 cylinder Firebirds available from the 1977 model year, but they are not Trans Ams. L80 and L78 V8 engines are in non-W72 package '77 Trans Ams.
Closing the Umbrella
Finding a Special Edition 1977 Pontiac Firebird Trans Am with the W72 handling package for sale is not impossible. It will make a six-figure dent in your bottom line if you want to become one of the original Bandits. Values hover at or around this range for near-pristine examples.
There are plenty of Special Edition Trans Ams available at or above the $50,000 mark as well. Some have undergone complete restoration back to factory specifications. If you want one, you will find one.
Although an original black and gold Special Edition 1977 Trans Am is the most desireable, plenty of replicas exist. Many of these replicas emerge from regular Firebird or Trans Am shells. As a result, do your due diligence if you are seeking an all original Special Edition specifically.
If you do not care about having a black and gold 1977 Trans Am, market values are very reasonable. For a non-replica or Special Edition '77 Trans Am, expect to see a wide price range, depending on condition.
Great to immaculate examples will range from $25,000 to $40,000 or more. Decent, driveable '77s are available for under twenty grand. You can even find a project '77 Trans Am for under $10K if you don't mind a little elbow grease.
Even though the Bandit Trans Am's power pales in comparison to the early days of muscle, its style is unmistakably American. Considering how easy it is to squeeze more power out of regulation-restricted American V8s, they are not a bad buy. If you do not care about adding more power, they offer an affordable throwback driving experience.
The nostalgic feel and smells of the vintage Trans Am experience will take you back to a simpler time. That kind of break from modern reality is akin to seeing Smokey and the Bandit at the drive-in in the late 70s. Imagine if you rolled out of the show in the Trans Am from the silver screen.
Now you finally can…