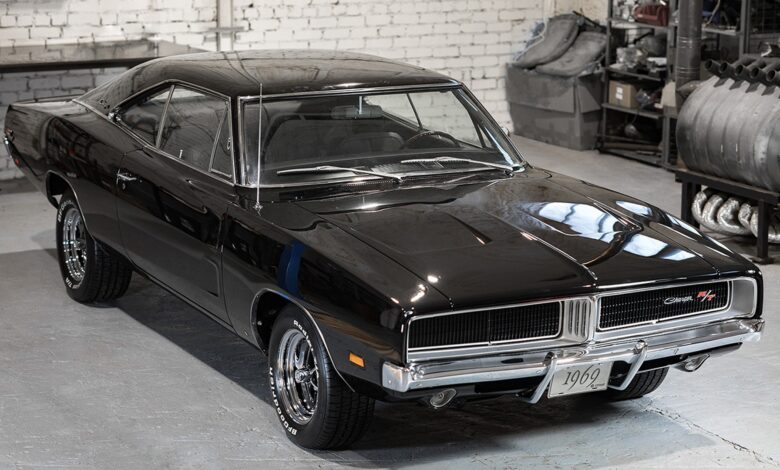 Very few cars ever achieve the kind of status the 1969 Dodge Charger has. From running moonshine on the CBS hit The Dukes of Hazzard to terrifying people in Death Proof, the Charger is famous. People know it when they see it.
Then there is the famous race against Paul Walker's Toyota Supra in The Fast and the Furious. With Vin Diesel starring as Dominic Toretto behind the wheel of a vicious 1969 Dodge Charger R/T, the spotlight is on. Some people argue the 1969 Dodge Charger is the most iconic muscle car of all time.
Whether or not you agree, one thing remains true, you see one at almost every classic car show you attend. The '69 Charger is one of the most instantly recognizable American muscle cars. Even some casual onlookers can guess it accurately to the year when they see one.
That is not to say the 1968 Dodge Charger R/T is not almost as popular thanks to its time on the silver screen. Being chased by a Ford Mustang GT driven by Steve McQueen in Bullitt certainly put the '68 Charger on the map.
Tracing the roots of the Charger back to the beginning, it was originally a 2-door fastback. Dodge enjoyed immediate success with their short-lived first-generation Charger. Production of the first generation only covers the 1966 and 1967 model years.
By 1968 it was already time for the next generation, which would also see a successful but short-lived run. The second generation of the Dodge Charger is a 2-door hardtop. However, the second-generation Charger still shares the same Chrysler B-body platform as the first-gen.
The Charger is a front-engine, rear-wheel drive muscle machine. This is a big-bodied car, make no mistake about it. NASCAR or not, you will feel the body roll when cornering or the tail sag when drifting in this baby.
1969 Dodge Charger Dimensions:
Wheelbase: 117 inches or 3,000 mm
Length: 208 inches or 5,300 mm
Width: 76.7 inches or 1,950 mm
Height: 53.2 inches or 1,350 mm
Charging Forward
Of course, you will also feel the stimulating intimidation of pure Detroit muscle at your disposal, waiting for your command. Dodge made a few small changes for the 1969 Charger model year including the symbolic longitudinal taillights. Plenty of people know these taillights well from seeing the Charger pulling away from them.
Other changes for the '69 Charger include a new grille with an identifying divider in the center of it. Obviously, the headlights are hiding behind the grille. Don't worry, the headlights use a vacuum-operated design to flip over when you need light or want to show them off.
Dodge also made a new configuration of the Charger available in 1969, the Special Edition or SE. You could stack the SE on top of the R/T option making it an R/T-SE model. It was the Sixties, people were trying new things.
Basically, the SE added leather inserts for the front two seats as well as chrome rocker accents. Special Editions also feature a wood grain steering wheel with matching accents on the instrument panel. A sunroof was available as an option with SE models, but only 260 customers ordered it at the time.
One of the most notable changes for 1969 is obvious on R/T models with the famous "bumblebee" striping. The old design featured four stripes while the '69 version has one wide stripe with two smaller stripes on the outer edges. A noticeable R/T marque rests in the middle of the stripe, models without stripes feature an emblem there instead.
Power in Numbers
There are several engine and transmission options across 1969 Dodge Charger configurations. One of the engines is a 3.7L inline 6-cylinder, but most of those shells see engine swaps. Next up the chain is the old reliable Chrysler 318 5.2L 2bbl LA V8 engine, respectable but there are others.
Keep in mind, this car is not exactly light on its feet. Most V8 versions of this car weigh around 3,500 pounds. A big-block 1969 Dodge Charger R/T will tip the scales at over 3,600 pounds.
In other words, it takes some sweat to get the Charger rolling. This is why most enthusiasts prefer bigger V8 engines in the '69 Charger.
Dodge offered two configurations of their 383 cubic-inch V8 engine for the '69 Charger model. For those keeping track of displacement, the 383 is a 6.3L V8. The 2-barrel carburetor version produces 290 horsepower while the 4-barrel makes 330 hp.
One of the most popular and sought-after engine options for the '69 Charger is the 426 cubic-inch, 7.0L 2x4bbl Hemi V8. This engine produces 425 hp with 490 pound-feet of torque and Dodge gives you control with a 4-speed manual transmission. Now you have enough power to really get that big muscle car moving.
A very large 440 cubic-inch 7.2L Magnum V8 engine rounds out the engine choices. Believe it or not, this engine only produces 375 hp with 480-pound feet of torque in its stock form. That goes without saying, there is a lot of tuning potential with the 440 engine, so it is still desirable.
The factory painted 426 cubic-inch engines Street Hemi Orange in 1969. They painted the 383 4-barrel engines Chrysler High-Performance Orange when mated to a 4-speed manual transmission. 440 Magnum engines are also High-Performance Orange while all others are Chrysler Engine Turquoise.
There are two different 3-speed automatic transmissions and two manual options across '69 Charger configurations. A 3-speed or 4-speed are the manual transmission options from the factory. The nice thing about having both auto and manual options is it opens the door for more enthusiasts to drive this car.
1969 Charger Appreciation
There are definitely plenty of people who want to drive a '69 Charger, but the opportunity is becoming rarer each year. Even though Dodge made approximately 89,199 Chargers in 1969, this is one of the most desirable muscle cars of all time. As a result, it is not always easy to find a 1969 Dodge Charger for sale.
Unfortunately, Bo and Luke Duke destroyed a few of them while running from Rosco P. Coltrane all the time. Also, thanks in part to the Duke Boys, demand for this car remains in the stratosphere. They stopped airing new episodes of the show in 1985 and everybody still wants a 1969 Charger.
If you are in the market, you should be able to find drivable examples starting around the $40,000 mark. Some may still need restoration eventually around this price range. The point is, you can drive it and enjoy a cruise in the short term.
Once you reach the $60,000 point, it should be a car you would take to a local car show. You may not win competitions, but your Charger will get plenty of attention. You will see a lot of prices above $80,000 when searching for a 1969 Dodge Charger R/T for sale.
Extraordinary examples including recent restorations will begin exceeding the six-figure mark. These cars should be award-winning, show-competition worthy. If you feel something is off, either walk away or bring an expert in.
Expect to pay over $75,000 for a solid General Lee replica. A terrific example will easily go over six figures, there are a lot of Duke fans out there. An actual car from the show once famously received a bogus bid of nearly $10 million.
Project examples are not as common as they used to be. They do pop up from time to time, so check auction listings and fixer-upper classifieds whenever possible. There is probably even a barn find or two waiting somewhere out there.
The '69 Charger does look good, it will keep showing up in movies or at classic car shows for years. Any Charger with a V8 engine has a nice low rumble to it as well. They can also unleash the thunder of the heavens at wide-open-throttle.
Some custom builders are very creative with the Charger. This mastermind crammed a V10 engine from a Dodge Viper into a '69 Charger and added twin snails to it. That's two turbochargers forcing induction into a fire-breathing monster.
As they say, there will always be somebody faster than you. At the end of the day, the only thing that matters is that you love what you drive. 
Every car is a blank canvas, every garage offers the perfect creative workspace to build your dream. For many people, their greatest masterpiece is still the 1969 Dodge Charger. They just have to get their hands on one first…