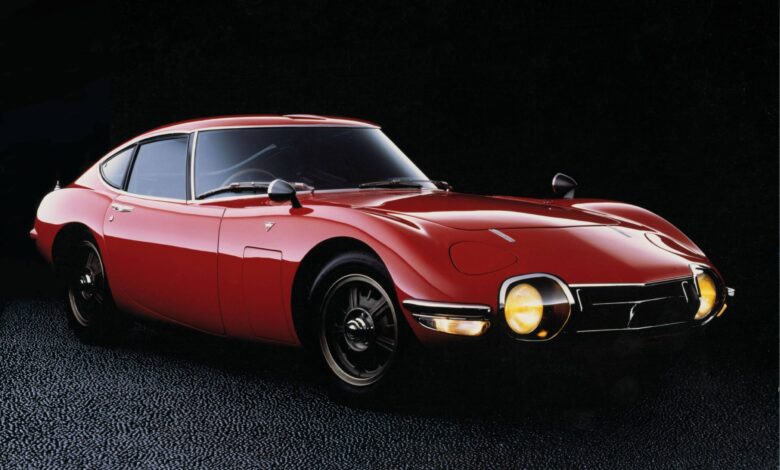 As the Japanese automaker's first sports car, the 1967 Toyota 2000GT became their vintage icon. Interestingly enough, Toyota contracted Yamaha to manufacture the 2000GT from 1967 to 1970. This car is responsible for changing the entire automotive world's perspective of Japanese automobiles.
The 1967 Toyota 2000GT is a front engine, rear-wheel drive sports coupe. More specifically, it is a grand tourer featuring seating for two under a stylish hardtop design. As a high performance fastback, the 2000GT proved Japanese automakers could go toe-to-toe with premium European competition such as the Porsche 911.
First unveiled at the Tokyo Motor Show in 1965, the 2000GT brought a bold and exciting image to the usually conservative Toyota brand. At the time, the worldwide perception of Japanese vehicles was unremarkable, to say the least. Lacking a sports car translated to less showroom traffic leading to lower sales volume.
Of course, the challenge was akin to climbing Everest. Build a sports car with the ability to compete with premium brands on the track without much experience. This feat requires precise engineering and economical manufacturing without sacrificing quality.
Yamaha was attempting the development of a sports car for many years without much success. Shelving the project to focus on motorcycle production, Yamaha's sporty ambition remained for years. Then, Nissan temporarily partnered with Yamaha to work on a sports car until plans fell apart.
During this era, Toyota was eager to improve their image. When Yamaha brought a sports car idea to Toyota, they accepted under one condition. Toyota insisted on using their own designer, Satoru Nozaki.
Vintage Gran Turismo Style with Luxury and Performance
Drawing inspiration from Jaguar's popular E-type, Nozaki crafted a true masterpiece. Inside and out, the 1967 Toyota 2000GT features a classy finish.
The exterior of the 2000GT features smooth body lines wrapped with seductively enticing curves. It is also lightweight thanks to the aluminum body. Features such as pop-up headlights and the dual plexiglass headlamps on both sides of the grille define the artist's vision.
Take a look inside to find luxurious wood veneer dashboard inlay from Yamaha's musical instrument division. It even features an auto-signal seeking radio, impressive for 1967. Not too shabby for a first attempt at competing with Europe.
Under the hood, the 1967 Toyota 2000GT features a 2.0L inline 6-cylinder engine. The engine itself is similar to one in another Toyota model, the Crown sedan. However, Yamaha transformed it into a sports car engine with a little tuning.
Yamaha machined a new dual overhead cam (DOHC) head for the engine. Then, they added three 2-barrel carburetors to it. The newly tuned engine produced 148 brake horsepower with 129 pound feet of torque.
Considering the 2000GT only weighs 2,469 pounds, you can see how this car is so capable against the competition of its era. A 5-speed manual transmission puts the power to the ground. It offers plenty of driving excitement with the intimacy of feeling the intricacies of the pavement below.
Searching for a Rare and Desirable 1967 Toyota 2000GT
If you want a 1967 Toyota 2000GT, take a number and wait in line. Unfortunately, Toyota only made a total of 351 2000GTs from 1967 to 1970. Official numbers are difficult to verify regarding how many of those are from 1967, but it is not many.
Collectors and enthusiasts drool over them to the point of driving prices to half a million dollars or more. In fact, a pristine 1967 Toyota 2000GT sold at an auction for $1.2 million in 2013. That's a far cry from its original sticker price of $6,800.
Only about 62 were ever exported for the U.S. market. The 2000GT set 13 speed and endurance records in October of 1966 to prove it belonged. It certainly did not have an economical price tag at the time, but it proved worthwhile at the track.
Toyota made so few 2000GTs that most people didn't even know it existed until seeing a custom, one-off roadster version in a James Bond film. Upon seeing it in 1967's You Only Live Twice, everybody wanted one. Toyota never released a roadster to the public though.
In the end, the 2000GT put Toyota on the map as an international manufacturer with a world class sports car. That is why the 2000GT is, by definition, Toyota's halo car.
By classic standards, the 2000GT represents Japan's first supercar. A sports car willing to compete fearlessly against some of the best the world has to offer. The 2000GT's success even led Toyota and Yamaha to develop their first purpose-built race car.
Today, from serious racing to their road dominating Supra, Toyota's heritage is rich with motorsports. To think it all began with the 2000GT is a testament to their dedication every step along the way. It is also why so many want to get their hands on a 1967 Toyota 2000GT, a true piece of automotive history.