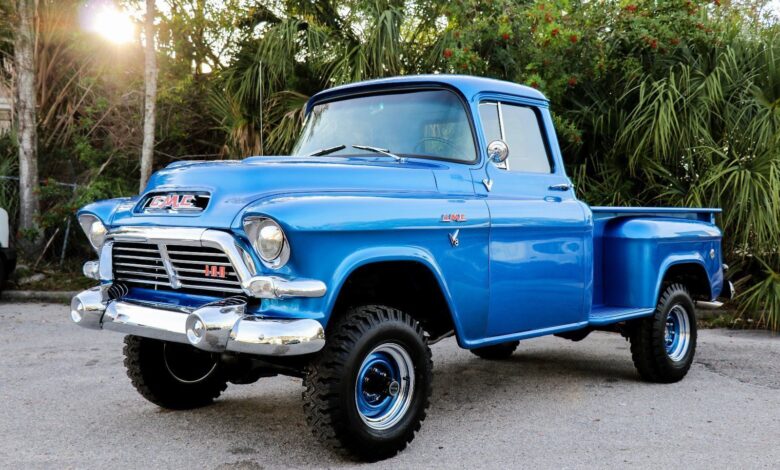 GMC's reputation for making comfortable and safe professional grade vehicles holds true to this day. Even in 1957, GMC was already ahead of the pack, setting the tone for their future.
History teaches valuable lessons. It also favors the bold. The 1957 GMC Napco is a prime example, but it requires a brief look into the past to understand what makes it so exceptional.
During World War II, the Northwestern Auto Parts Company (Napco) engineered specialty mechanical assemblies for testing in battle. As is often the case, wartime innovations eventually find their way to civilian applications. One of Napco's areas of expertise included manufacturing four-wheel drive assemblies for GMC, Chevy, Ford and Studebaker vehicles in the early 1940s.
Over time, this became known as the Napco Power-Pak option. Government officials and civilians could order the Power-Pak kit and have it delivered in a crate. Installing the kit usually took about three hours and added the ability to climb steep inclines, easily, in a full-sized truck.
By 1957, the Napco Power-Pak was available as a factory option from General Motors. Installation from the factory without any major modifications to the original chassis was now possible. This streamlined process made the Napco Power-Pak much more affordable and accessible than ever before.
To this day, Napco equipped trucks are highly desirable. Enthusiasts and collectors laud them for their durability and capable versatility. The 1957 GMC Napco also adds stylish flair to that list.
Before 1955, the Napco Power-Pak was only available for GMC ¾ ton or one ton trucks. By the 1955½ model update, GMC redesigned the ½ ton chassis to be compatible with the Napco Power Pak. As a result, there is a wide variety of 1957 GMC trucks featuring the Napco four-wheel drive package.
The Reputable Blue Chips
GMC trucks produced from 1955 to 1959 are often referred to as the Blue Chip series. Obviously there are many similarities to Chevrolet's Task-Force trucks from the same era.
During the Blue Chip era, GM used several different inline 6-cylinder and V8 engines to power the trucks. A 3- or 4-speed manual transmission was available, as was a 3-speed Hydramatic automatic.
Every year, auto manufacturers make subtle changes and updates to model lines. These changes can include technological advancements as well as aesthetics. GM introduced several updates for the 1957 GMC Napco, including a fresh marketing campaign.
New features and designs for the 1957 GMC model year include oval shaped fender emblems as well as a flatter hood styling. An exclusive identifying marker for the 1957 GMC truck line-up is the open grille design. This specific grille design is only available on 1957 models.
One of the best advancements the GMC truck division introduced was making their unique air suspension standard equipment for the 1957 line-up. They were the first truck manufacturer to do this. Making safety, comfort and durability a high priority is what defines the GMC experience.
Other notable features for the 1957 GMC Napco include a panoramic windshield and a full wrap-around rear window. Marketed as the 1957 GMC Blue Chip "Money Maker", consumer response was overwhelmingly positive.
The idea behind the marketing campaign was to reel in dealerships and consumers with the best truck available on the market. Perhaps one specific '57 GMC ad says it best, "When your business is selling trucks of any size of any type for any job, there's nothing like selling Money-Makers!"
Kicking the Tires on a 1957 GMC Napco
Of course, getting behind the wheel of a 1957 GMC Napco is a bit pricier now than it was then. A 1957 GMC Napco Power-Pak 3100 4X4 cost $2549 from the factory. Considering the Napco Power-Pak add-on kit cost up to $1550 alone just two years prior, the 1957 GMC Napco offered great value.
To say these are "Money Makers" would be an understatement. Today, a pristine 1957 GMC Napco commands values close to six figures. You can find regular '57 GMC trucks for much less, but you will pay a premium price if you want a Napco.
Shifting a 4-speed manual transmission while enjoying the rumble of a V8 through a dual exhaust system is a priceless experience. Stylish, comfortable and built with appeal that keeps proving itself year after year, the 1957 GMC Napco is special. There are many Napco 4X4 enthusiasts around the world, but only a limited number of 1957 GMCs to match their demand.
If you come across one that feels right, you will quickly become an enthusiast yourself. From their vintage American design to premium quality durability, the 1957 GMC Napco is here to stay. It certainly has proven itself as a true "Money Maker" over time.