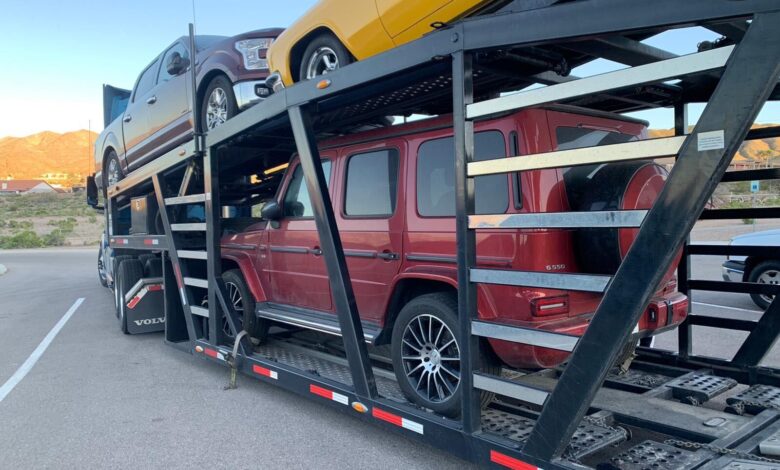 I've purchased cars through auctions and through dealerships half way across the country. I needed to arrange transportation, and at first, that was a little overwhelming. But now that I've done it a few times, it's a piece of cake.
I recently spoke with a dealership who said today, the majority if their sales are via the internet. Sight unseen except for photos, videos, and a certified inspection.
So here are some tips for arranging transportation of your new car!
Closed Trailer Transportation
One of the most professional transportation companies is Reliable Carriers. The drivers that dropped off my Volkswagen Microbus were a husband and wife team, with a small dog in the truck's cab. They've been working for Reliable Carriers for over 20 years, and they love life on the open road. Below is a picture of them dropping off my 1961 Volkswagen Microbus.
Reliable Carriers won't always be the cheapest, but they are fantastic when it comes to trusted, responsible, and reliable transportation. When you're transporting your new car, you don't always want cheap. You want…reliable! And you want insured!
The husband and wife team upon arrival, told me in their 20+ years of delivery, they haven't had one car they've damaged. That's an outstanding track record.
You can check out Reliable Carriers website and request a quote. With many drivers all around the country, they can quickly pick up a vehicle for you.
I have also used transportation companies recommended by dealerships, and those are usually good too! Most dealerships have local companies they work with, and typically, they'll be a bit less expensive. Of course the quality and cost of transportation will vary depending on which company you use.
Open Trailer Transportation
Many of the least expensive options for transportation will be open trailers. Open trailers are okay for project cars, and cars that you don't mind if they pick up a few nicks on the open road. But for an expensive classic car that is irreplaceable, you'll want a closed trailer.
Reliable Carriers offers both open and closed trailers. You just need to specify which you prefer.
Potential Complications with Drop Offs
If you live on a backroad or in the country, 90ft long trailers won't be able to drop off directly at your house. If this is the case, plan to meet at a location that can accomodate a trailer. When I have cars arriving I meet them downtown which is near my office. This is convenient, although moving a car from the trailer to your own house can be tricky if you don't have a license plate yet.
Just be mindful to have your plates ready if you do need to drive it between a pick up location and your home or storage location. You can also coordinate with a local flat bed trailer company for direct to your door transportation. Reliable Carriers can accomodiate this.
Final Thoughts
Transportation is becoming a big business these days with more and more cars being bought online from dealerships across the country. A word of advice would be to do your due diligence before buying a car out of the country. While transalantic transportation is available via cargo containers, be prepared for import taxes.
If you're doing a simple domestic transportation, it's easy peasy. Get that new car delivered and start driving it!