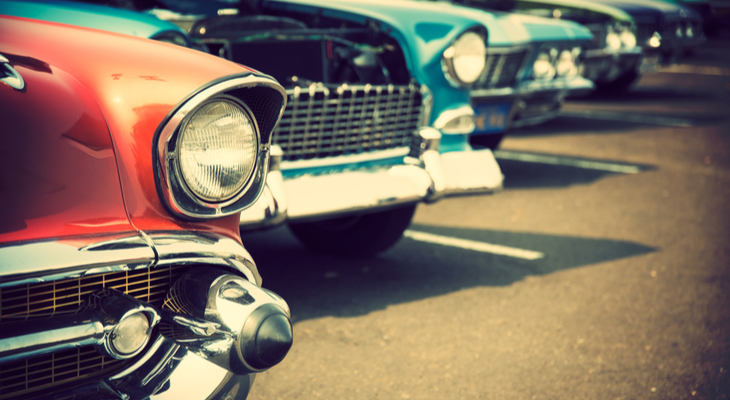 When it comes to buying classic cars, auctions have become increasingly popular. Here's the deal, auctions get a lot of hype. If you have an amazing car, say, the original 1968 Bullitt Mustang from the movie, you want to sell it at auction. If you sell it through a dealer on consignment, there's just no way it will get the level of press coverage as an auction at one of the big auction houses.
So when Sean Kiernan decided to sell his classic 1968 Mustang driven by Steve McQueen, he brought it to Mecum. And guess what? With all the press and excitement, buyers stepped up to the plate and it sold for a record of 3.74mil USD. This was in the midst of a 10 year bull run in the US Stock Market, and buyers had money in their pockets. This Mustang set a record for the highest price Mustang ever sold.
Whether you are a Tire Kicker and love looking at classic cars, you're a buyer with money in your pocket, or you have something special to sell and want to get the price price, these are the auctions you should be watching.
The Top 4 Auctions for Classic Cars
Online Classic Car Auctions vs Live Auctions
Since the launch of Ebay, buying cars through online auctions has become common place. There are auctions closing every single day, 365 days a year, for online car auctions. This of course includes classic cars, exotic cars, and your run of the mill mini vans, trucks, and sedans.
Let's talk about the Pro's and Con's of online auctions and the Pro's and Con's of Live Auctions.
The Pro's and Con's to Online Auctions
The Pro's to Online Classic Car Auctions
Sellers WILL sell to the highest bidder: On the one hand, an auction of any type forces a sellers hand. They are definitely selling the car, as long as the reserve is met. With an online auction at Ebay, or many others, the seller can place a reserve as high as they want. Obviously Ebay wants the sale to go through, but the platform lets sellers choose their reserve prices. I know this, because I've listed cars on Ebay before.

So while you don't know the reserve price when you're a buyer, Ebay (and many other online auctions), will show you when the reserve has been met. If you are bidding a car that you really like, but isn't considered a highly collectible car, say a 1985 Mercedes 300D, there is a good chance you won't have a lot of people bidding against you.

The online auction is a cheap and easy way for the seller to get the car to the market, and it's an easy place to be a buyer.

Lower Premiums: Live Auctions can have premiums anywhere from 10-15%. This is a huge expense, regardless of what price range your looking at. Ebay has very low fees, although when Sotheby's and other big auction houses offer online auctions, they still charge a high percentage, as high as 10%.

Easy to Register: Registering to Bid at auctions such as Mecum or Sotheby's, requires a letter from your bank and sometimes a substantial deposit. This is a big commitment both of time and funds, if you aren't sure you're going to bid. Online auctions, especially Ebay or Bring a Trailer, are easy to register and bid at. This makes them more popular for typical buys and sellers, while the bigger auctions become more popular among more affluent buyers.
The Con's to Online Classic Car Auctions
Time is not good for buyers: With a 7+ day online auction, there is ample time for potential buyers to review the vehicle, inspect the vehicle, and research the true fair market value of the car. If word gets around that a great deal is to be had, more buyers will step up. This means online auctions typical give sellers a better price.

An exception to this can be that seasonally auctions can be stronger or weaker. An online auction ending on Christmas Day will not perform as well as other days of the year. Auctions ending on a day when the stock market is down 2,000 points may not perform as well if wealthy bidders are looking at the car.

On the one hand, live auctions can offer a better deal, although often the premium of live auctions reduce any "savings" vs an online auction or buying from a dealer.

Test Drives are uncommon: Given online auctions give you the chance to bid on a car that may not be remotely close to you, it's no longer reasonable to expect to be able to test drive a car before you buy. Here's how I've handled it. I've gone to local dealerships to test drive similar cars, or the same model I'm looking at. Then I'll buy it online. That way even though I'm buying sight unseen, I know what I'm getting into. Just know that there will always be a few surprises with a car purchased sight unseen. It's the price you pay to get the perfect car you've always been looking for.

The bidding really doesn't get serious until the last 10min: The funny thing with a 7 day online auction is that in the beginning there are only a few bids to get things started. I suppose it helps people get skin in the game and start following the auction. I do this too. Then all bidding usually stops for the rest of the auction until the last 10 minutes on the final day. Most online auctions have a rule that if a bid comes in during the last 2 minutes, the ending time will be extended by another 2 minutes to prevent one last bidder from coming in a cutting off other buyers. Most auctions will get extended due to this bidding behavior.

The problem with this is simply that you need to be available when the auction is ending. You can't really just put your highest bid and walk away with most of the online platforms. For instance, with Sotheby's, if you place a bid for 15k, that is your bid (not how high you'll go). It doesn't automatically bid for you with other bidders up to your limit. It will jump the price right to your bid.
The Pro's and Con's to LIVE Classic Car Auctions
The Pro's to LIVE Classic Car Auctions
Cars sell at the hammer! Again, minus the reserve, cars will sell when the hammer hits. The good thing here is that because auction houses charge 10-15% premium, they won't let sellers place an unrealistic reserve. It's not worth their time. Typically, if they provide an "estimated range" for the auction, the reserve will be below the bottom of the estimated range. I've seen many cars at Sotheby's and Barrett-Jackson sell for below the estimated range, and still be above the reserve price. This is a big advantage to a buyer.

Sometimes bidding is just very light at a live auction, where it's because one of the desirable cars is at the end of the auction and bidders are just waiting for that, or because of any number of other reasons, good deals can be found, just don't forget to add the premium.

Unlike the advantages of an online auction that ends in the middle of a work day, or on a holiday, live auctions will be scheduled to maximize bidding. After all, the auction houses make more money the higher the bidding goes, where as money online auctions are simply a listing fee and a negligible commission.

Super Rare and Impossible to Find Cars: Live Auctions are where you see cars that were produced in such limited quantities they come up for sale only once every few years. For instance, a 1967 Toyota 2000GT, one of 62 ever produced in Left Hand Drive. They don't come up for auction often, but when they do, expect anywhere from 500k-1mil.

These cars may occasionally be available for consignment at a high quality dealership in LA or New York, but bidding war at an auction is what any seller wants. Unless a seller needs to unload the car ASAP, an auction will be their best route.

The Con's to LIVE Classic Car Auctions
It's often not possible to have a traditional inspection. This is a bit of a problem because not only are you buying sigh unseen, but you haven't even had the chance to conduct an inspection.

Having bought cars at auction I've noticed a few things. The first, you have to expect that there will be surprises. I bought a Volkswagen Microbus which was completely restored, however, when it arrived the I noticed the headlights and taillights weren't working. I checked the fuses and they were in good shape. However, the fuse panel had a crack in it so the metal contacts were touching. It was an easy fix, but a fix none the less.

Registering to Bid is a process: Registering to bid at a Sotheby's auction requires a letter from your bank promising that you can afford to pay up to a certain amount. Some banks don't like writing these letters and will refuse. My bank does it, but it's a pain, and you need to get a new one for each auction. At Mecum, you have to put down a 50% deposit for whatever you plan to bid on, if you bid online. So you have to wire that amount in advance. I'm not sure how long it takes for them to send the money back if you don't end up buying anything because I haven't wanted to do it.

The premium: The premium is steep. My feeling on Live Auctions is that generally their for such rare and collectible classics, that it's where you go if you know exactly what you want, and don't need to sit in it or drive it first, and certainly don't care if you have to replace a few parts when it arrives. In other words, most classic car auctions are for those with big wallets.

The live auctions for daily drivers are too risky to buy sight unseen. I'd only feel comfortable buying a daily driver from a dealership.

But for classic cars, the auctions are a great way to get your car in front of collectors, and if you represent the vehicle as well documented, matching numbers, restored, then buyers understand the name of Barrett-Jackson, Sotheby's, Mecum, Bonhams etc., are standing behind that.

While some deals can be had, the premium will most likely bring the price back up to, or even above fair market value. However, if you've always been wanting that 1964 Green E Type Jaguar, and one is coming up for auction, you'll probably pay the price. It's not uncommon to see a vehicle resurface at auction every few years as it goes between collectors. In today's market, these vehicles often sell for more and more each time they come back.
Final Thoughts
Classic car auctions are fun and exciting to watch and be part of. Just look at the fact that Barrett-Jackson auctions are now simulcast to TV's all around the world. Whether your a buyer, or a seller, Live Auctions are the place for the super rare, blue chip, concourse grade A cars, while online auctions are great for driver grade collectibles and slightly more out of main stream models.

In recent Live Auctions Shelby GT500's, Mustang's, Shelby Cobra's, and Ferrari's have been doing really well. Perhaps it's the recent Ford vs Ferrari movie, or perhaps it was the hype and excitement around the Bullitt Mustang's auction price. While these cars have been a focus of Live Auctions, many others have slipped under the radar, selling for well under the estimated range.
If you're in the market for a good deal, buying what other people seem to be ignoring is a better way to go. But like any investment, the risk is not knowing whether or not that car will come back into favor. The best bet is to purchase a car because you love it. If it does increase in value and you're in a positive to sell it for a profit, good for you. If not, at least you've enjoyed owning the car of your dreams.
Happy Tire Kicking!