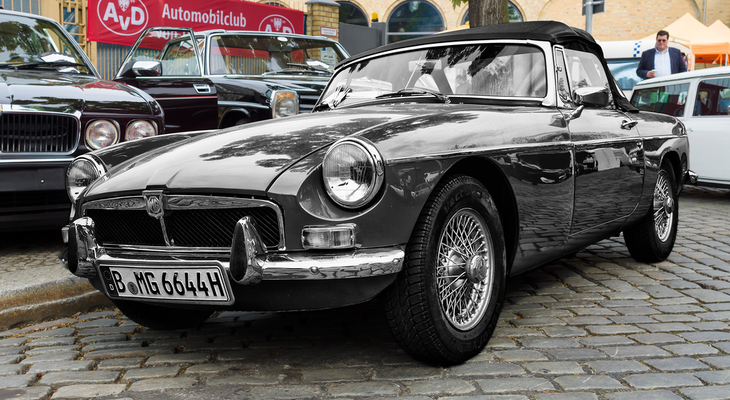 Replacing the popular MGA sports car proved a success for the British Motor Corporation. In 1962, BMC unveiled the MG MGB Roadster. Eventually BMC became British Leyland, then later acquired by the Rover Group, but MG is easier to remember.
Getting back to the MGB Roadster, this front-engine, rear wheel drive sports car is a two seater for the most part. A limited number of MGB Roadsters feature a rear seat, but they are rare. It is a two-door sports car featuring a soft-top convertible in an agile European body with vintage styling.
Under the bonnet is a 1.8L 4-cylinder engine, it may be small, but it has a lot of spirit. In fact, this engine has many enthusiasts who are happy to share their knowledge with you. Known for its durability, it can go about 130,000 miles between rebuilds with regular use.
Sporting 94 brake horsepower with 107 pound-feet of torque, the lightweight MG MGB Roadster begs for hard driving. Keep going to the maximum output range of 5,500 rpm while exiting every apex to truly appreciate this car. Considering most MGB Roadster models weigh between 2,000 to 2,200 pounds, this is like a go-kart for adults.
Although an optional 3-speed automatic was a factory option, there are not many survivors. The automatic option was only available in the United Kingdom. Most MGB Roadsters feature a 4-speed manual gearbox, offering a nostalgic driving experience familiar to many classic car enthusiasts.
Keeping up With the MG MGB Roadster Over the Years
Although there are a few variants of the MGB, production for the standard Roadster continued until 1980. Several updates occurred over the production lifespan, such as the introduction of a Mark II model in 1968. Changes included revised gear ratios and a new rear axle.
Many changes were the result of keeping up with US safety regulations as they passed. For example, in 1968, a new foam and rubber dashboard, the "Abingdon Pillow", made its debut as a safety feature. This replaced the standard steel dashboard, which continued in other markets.
Dual circuit brakes were another addition for the '68 model. They even added a third windshield wiper in 1969 to cover the required percentage of the windshield for the American market.
Some significant styling and convenience updates include Rubery Owen RoStyle wheels and reclining seats in 1969. 1970 models feature a recessed black aluminum front grille. Of course, the more traditional looking grille made a comeback in 1973 with a black honeycomb addition.
One interesting addition to 1974 models are the oversized rubber bumper over-riders, replacing the old chrome ones. Some call these bumpers Sabrinas, after the famous British actress. Halfway through 1974 model production, a new black rubber, steel-reinforced bumper replaced the chrome one completely.
Handling suffers on 1975 models due to the decision to delete the anti-roll bar. Instead of making proper headlight adjustments, British Leyland raised the car an inch to meet headlamp height regulations. This also created undesirable handling side effects.
By 1977 the anti-roll bar was back as standard equipment on all U.S. models. Splendid decision. Eventually horsepower reductions to meet emission standards affected the MGB Roadster, as it did the entire automotive industry.
In 1979, MG began a limited edition run of black painted MGB Roadster models for the U.S. market. Their intention was to make 500 of them available, market demand pushed the overall production number up to 6,682 limited editions.
The car was so popular, MG decided to end production in 1980 to hopefully steer buyers to the struggling Triumph TR7. Despite this effort, the TR7 failed to gain any traction. The MGB remained in hiatus until a special V8 version, the MG RV8 appeared from 1992 to 1995.
There are other interesting MGB models available from the 1962 to 1980 production window. Some of the models include coupes and even a GT V8 version from 1973 to 1976. However, the Roadster is the primary focus for the time being.
Sometimes Popularity Pays Off
An estimated 512,243 MGBs rolled off the line from 1962 to 1980, making it the best selling sports car of its era. Almost 300,000 of them are North American examples. In fact, until the Mazda Miata eventually passed it, the MGB was the best selling sports car in history.
This translates to a market full of opportunity if you are looking to find an MG MGB Roadster for sale. You can actually find running examples in fair to almost good condition for under $10,000. If you want a fun project car, you can find them for $5,000 or less, depending on varying factors.
Of course, pristine and special examples fetch $20,000 to $30,000 or more. You can find a lot of clean MGB Roadsters, well-maintained, within the $10,000 to $20,000 range. A lot of these cars are available, so it is a very casual shopping experience when kicking the tires.
As an affordable vintage sports car, the MGB Roadster is an ideal European classic to add to your collection. It is also the perfect way to enjoy a throwback driving experience on a beautiful day. Take your time finding the right one, you will know it when you drive it.