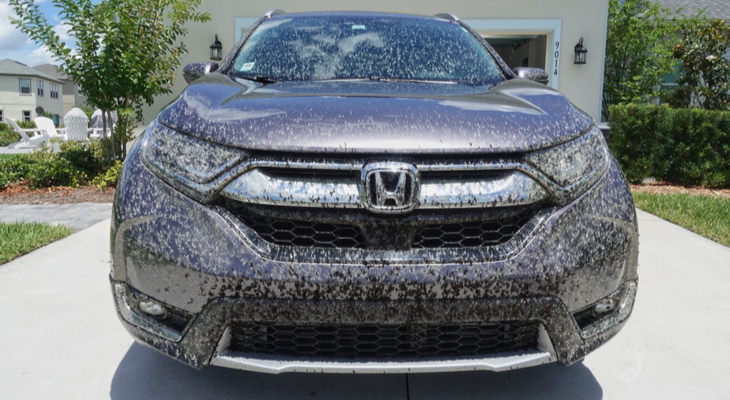 The proper maintenance of your vehicle starts with protecting your car from unnecessary damage. This is especially the case for those of you who are dealing with removing love bugs from your windshield and other areas of your car.
Unlike other pesky insects that are simple to remove from your new paint job, the love bug's acidic body can cause a significant amount of damage to your vehicle's finish.
Having said that, here are some things that you need to know about love bugs and the most effective gentle ways on how to remove love bugs from your car.

What You Need to Know About Love Bugs
The lovebug is known by a number of different names. Some of the most commonly known familiar pet names include the following: honeyfly, double-headed bug, telephone bug and kissybug.
Though many of these names may appear to be all about love and affection, it's real reputation leans more toward a clear example of a public nuisance.
Simply stated, the love bugs' growing annoying presence can easily be seen during the late summer and the late spring. Therefore, you may want to pay close attention to the care of your vehicle in the months of April – May, and August – September.
During these periods, you may notice that the love bugs drifting movement simulates snowfall in grassy areas and along the highways.
In fact, if you drive through an area that is highly infested with these insects, you will most likely see their larvae and acidic remains attached to your windshield, radiator grills, and the hood of your own vehicle.
How to Remove Love Bugs From Your Car
As mentioned earlier, driving through a swarm of lovebugs on the highway can be a very frustratingly ugly scene on many different areas of your vehicle.
Therefore, you need to know exactly what to do to minimize any damage that can be caused. Here are some simple and effective steps that can be used.
Step 1: Soak the area on your vehicle with water to remove all of the residues that have been left behind. If the area is especially heavy with their remains, apply a small layer of baby oil to lift and loosen the heavier spots.
Step 2: Scrub hardened areas that have been left behind with a damp dryer sheet.
Step 3: Rinse loosened areas often and then use new damp dryer sheets, whenever necessary.
Step 4: Repeat step 3 again until all lovebugs' larvae and carcass remains are completely gone.
Step 5: Wash Vehicle with car shampoo and then rinse.
Tips to Prevent Additional Love Bug Problems
By using the steps listed above, you can remove love bugs easier without causing any unnecessary damages. Also, during love bug season, there are some additional measures that you can take to keep these swarms from effecting the perfect finish on your vehicle.
Tip #1 – Wax your vehicle regularly. When wax has been applied in advance, your vehicle is protected from harsh love bug splatter problems.
Tip #2 – Reduce your vehicle's speed when encountering large swarms of love bugs.
Tip #3 – Spray a light coat of cooking oil on each of your side mirrors. This oil will make it easier to remove love bug splatters later.
Tip #4 – Install a bug screen on the inside and outside of your radiator. These screens will help to protect the radiator from these bugs.
Bottom Line
Keeping your vehicle properly maintained and protected is not always as simple as most people may think.
In some cases, you will need to take additional measures to protect your vehicle from outside influences like annoying love bug splatters and love bug infestations.
Since these types of problems can differ from one situation or circumstance to the next, you need to know exactly what to do to ensure your vehicle remains love bug-free.
This is especially true during their most active seasons (early spring and early summer), specifically when large swarms and infestations can easily be found in the grass and on the highways.
Additionally, by using the love bug removal steps and vehicle tips provided above, you can protect every area of your vehicle including its perfect showroom finish.