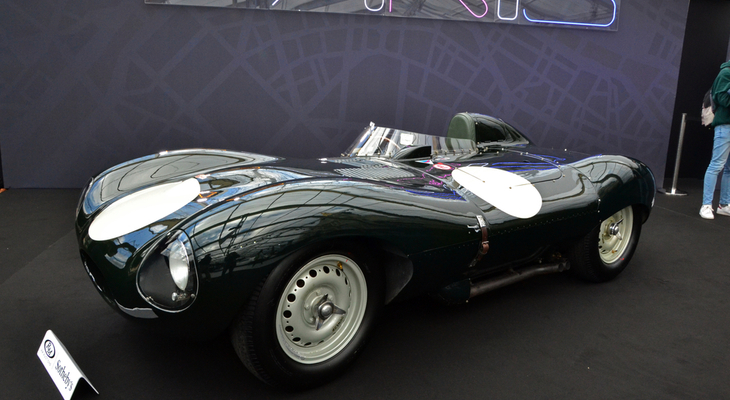 The year is 1957. You are in a Jaguar D Type racing at the Le Mans 24 Hour Race. This is the one year when the 3.8L straight-6 XK engine was legal at Le Mans.
You are inching the gas pedal closer to the floor, down the 6 kilometer stretch of open road known as the Mulsanne Straight. This is before chicanes crashed the party in the 1990s, all you have to do is pierce the wind with fearless acceleration.
Speeding down the Mulsanne Straight at 172.8 miles per hour in a Jaguar D-Type is equivalent to experiencing divine intervention. Furious wind is whipping around your helmet. Well, hopefully you have a helmet on when approaching this speed unless you love eating bugs for breakfast, lunch, and dinner.
As one of Jaguar's most seductive designs, the D-Type is an iconic car from the legendary British automaker. Believe it or not, the stylish design is not only for looks. This is an extremely aerodynamic design for its time.
Using a revolutionary approach for the industry at the time, Jaguar integrated aviation technology throughout the design of the D-Type. Even the cockpit portion of the car features a monocoque construction design using aluminum alloy. The distinctive elliptical body design reduces drag.
In place of a traditional tank, the Jaguar D-Type features a deformable Marston Aviation Division bag for fuel storage. There is even a fin behind the driver designed to improve aerodynamic stability on some models.
Malcolm Sayer joined Jaguar after spending time with the Bristol Aeroplane Company. He is one of the people responsible for bringing the advantage of aeronautical technology to the D-Type.
The Jaguar D-Type is more than just a sports roadster, this is an actual race car. It offers traditional front-engine, rear-wheel drive familiarity. Raw torque, smooth power, and go-kart-like agility combine for an exhilarating classic car driving experience.
An all-aluminum body keeps the D-Type lightweight while staying with the aeronautical engineering theme. A 4-speed manual transmission shifts gears while you enjoy the roar of the Jaguar XK engine. Jaguar used three different versions of this engine throughout the brief production of the D-Type.
Upon its arrival in 1954, succeeding the successful C-Type, the D-Type featured a 3.4L straight-6. In 1957 Jaguar increased displacement of the XK engine to 3.8L which translated to their most successful D-Type year. Rule changes forced Jaguar to downsize to a 3.0L engine in D-Type race cars in 1958.
One of the most impressive features of the D-Type is its stopping power, especially for its age. Most cars from the early 1950s, even sportier machines, have drum brakes. The D-Type has disc brakes all around, way ahead of its time.
Braking is important, it is difficult to have confidence while driving fast if you feel uneasy about the brakes. Jaguar's D-Type is notorious for having smooth braking power, without pulling the vehicle to one side while slowing down. Full stops are possible in the D-Type.
Of course, you will not have power steering. It is also going to get a little bit warm in the cockpit, especially on a hot day. However, there are not many driving enthusiasts who would turn down the opportunity to get behind the wheel of a D-Type.
From Outdated to Priceless
Even though Jaguar only made the D-Type from 1954 to 1957, this car leaves a lasting impression to this day. Not every classic has the soul of a race car with the legacy to back it up. The D-Type won Le Mans in 1955, 1956, and 1957.
There is a good chance Jaguar could have continued their success if the rules had allowed them to continue using the 3.8L engine. The 3.0L proved to lack power and was unreliable. By 1960, the D-Type was no longer competitive in racing.
At one point, Jaguar retired from racing as a factory team. It was only a temporary retirement, but one that left them with unfinished D-Types. They decided to add some road-going equipment to the unfinished cars and release them as the XKSS.
Turning the unfinished D-Types into the XKSS made it possible to sell them as production sports cars in North America. Unfortunately, a factory fire destroyed 9 out of the 25 potential XKSS conversions.
In the 1960s, you could find the Jaguar D-Type for sale between $3,000 to $5,000. At that time, the public opinion of the D-Type was that it was a dinosaur. Just an old racing relic, why would anybody want to own one of those?
It turns out some designs are priceless, especially when they carry so much racing heritage across the finish line. Today, it is extremely difficult to get your hands on a Jaguar D-Type. Considering they only made about 87 of them, opportunities to own one are even more scarce than the car itself.
Estimates put total production at 18 race car versions, 53 private customer examples, and 16 XKSS editions. If you want one, you will have to bring a blank check. That's assuming you can even find one for sale.
You can find re-creations of the D-Type for sale. They are not kit cars, more like replicas. In the hands of industry professionals, re-creations have the potential to turn out pretty close to the original experience.
However, these replicas will never touch the value of the real thing. You can find replicas and re-creations starting around $100,000.
If you want the real thing, take a number and step in line. Recent auction data from a Sotheby's auction in 2016 shows a sale price of $19,800,000 for a 1955 Jaguar D-Type. Take a moment to collect your jaw from the floor before reconsidering a replica.
At the end of the day, if you have an authentic D-Type, you can afford to drive it. Enjoy it. This is what it's like to feel like a million bucks.