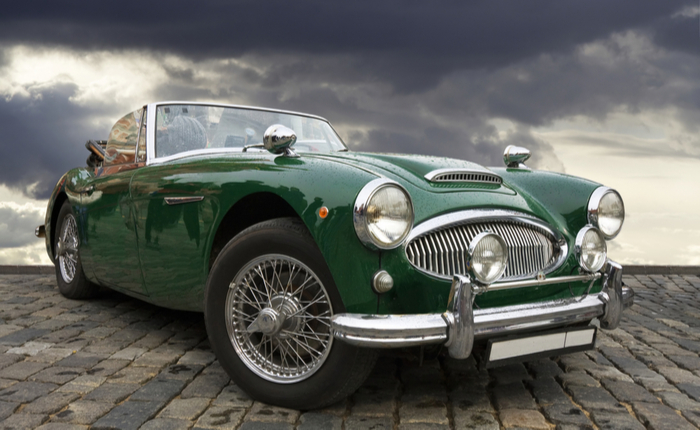 During the 1950s, an explosion of motorsports urged automakers to saturate the global market with more sports car options. A joint venture between the Austin division of the British Motor Company (BMC) and the Donald Healey Motor Company formed Austin Healey. Although they only built four different models, the 3000 is often referred to as the "big Healey".
Built from 1959 to 1967, the Austin Healey 3000 combines elegant charm with a spirited soul. Jensen Motors is responsible for designing the car's body while vehicle assembly occurred at an MG plant in Abingdon.
At first, the Austin Healey 3000 hit the streets as an open-air sports car, basically a roadster. Later in its production lifespan, Austin Healey changed the 3000 to a convertible. There are both 2+2-seater versions as well as true 2-seater models of the 3000.
As a front-engine-mounted chassis with rear-wheel drive, the Austin Healey 3000 offers an FR layout familiar to classic car drivers. The engine is the 2.9L version of the famous BMC-C series of inline 6-cylinders featuring an OHV design. Of course, some classify this engine as a 3.0L, but its displacement is 2,912 cc.
Variations of this engine found in the Austin Healey 3000 produce between 130 to 150 horsepower. Overall, Austin Healey made several variations of the 3000 under three different classifications: Mark I, Mark II, and Mark III.
Mark I Austin Healey 3000
Upon announcing it, Austin Healey marketed the 3000 as being capable of reaching 60 miles per hour in 11 seconds. Austin also claimed it would reach 100 mph in just 31 seconds. This may not be impressive by today's standards, but it was the bee's knees in 1959.
There are two different variations of the Austin Healey 3000 under the Mark I classification: the BN7 and the BT7. Both are roadsters. The 2+2 version is the BT7 while the 2-seater is the BN7.
If the weather should turn while driving your Mark I Austin Healey, you may want to find cover quickly. There is not a lot of protection from the elements in this car outside of a folding plastic roof. It sits on a light-duty, demountable frame.
You also have detachable side screens attached to sliding perspex panels. In other words, you don't stand a chance in heavy rain or windy conditions. However, on a beautiful day, the Mark I Austin Healey 3000 is an enjoyable experience.
Some of the available options from Austin Healey for a Mark I 3000 include classy wire wheels, two-tone paint, or a heater. You could also elect for a laminated windscreen, an adjustable steering column, or a detachable hardtop for the 2+2. A gearbox with overdrive was also available for the Mark I.
Austin Healey made approximately 13,650 Mark I roadsters. Out of those, about 2,825 are the BN7 version while the other 10,825 are the BT7 with the 2+2 seating layout.
Mark II Austin Healey 3000
In May of 1961, Austin Healey announced the next 3000, the Mark II, would have a better camshaft in the engine. It also would feature a total of three SU HS4 carburetors for improved performance. Beginning in August of 1961, a brake servo became available as optional equipment to improve braking performance.
Mark II roadsters did not have a very long shelf life, Austin Healey discontinued them in 1962. First, they discontinued the BN7 in March of 1962 and then the BT7 in June. These were the last of the Austin Healey 3000 roadster models.
At the end of August in 1962, Austin Healey launched the BJ7 sports convertible version of the 3000 model. The Austin Healey 3000 BJ7 is a true convertible, offering drivers and passengers sanctuary from the elements when necessary. It is a 2+2-seater.
Convertible BJ7 models feature a wrap-around windscreen, roll-up side windows, and a folding roof. Austin Healey replaced the triple carb setup with two SU HS6 carburetors in the BJ7. Their marketing department claimed the car could exceed 115 mph, making it an attractive option for racing enthusiasts.
By 1963, Austin Healey exported over 90% of their manufactured cars to North America. This is good news for anyone stateside looking to get their hands on one. There are still a few around.
Austin Healey made approximately 11,564 Mark II 3000 models. Only 355 of them were the BN7 2-seater roadster. They made 5,096 BT7 2+2 roadsters and about 6,113 of the BJ7 2+2 convertibles.
Mark III Austin Healey 3000
Following its announcement in February of 1964, Austin Healey launched the Mark II BJ8 version of the 3000 model. This is the final version of the 3000 from Austin Healey, they would go on to make them until 1967. The BJ8 is a convertible with more power than previous versions of the 3000.
Horsepower increases from 130 to 150 thanks to an upgraded high-lift camshaft. They also switched the carburetors out for newer SU HD8 carbs on the Mark III 3000. These are the most desirable 3000 models for performance enthusiasts.
To help slow down the more powerful Mark III 3000, Austin Healey made power-assisted braking standard instead of optional. Improving stopping power is always a wise idea whenever you add power to any vehicle.
A Phase II version of the Mark III 300 released in May of 1964. Phase II editions feature a modified rear chassis and a little more ground clearance. In March of 1965, Austin Healey gave the 3000 separate indicator lights. Austin Healey made a total of 17,712 Mark III 3000 convertibles.
From Race Car to Collector Car
The Austin Healey 3000 is still a fun drive by vintage car standards. Keep in mind, this car actually raced at several circuits around the world. Some of the tracks include Sebring and Le Mans.
Austin Healey made almost 43,000 total of these cars worldwide. If you want to find an Austin Healey 3000 for sale, they are out there for the right price.
It is very common to see the Mark III available in pristine condition for over six figures. However, you can find project Mark III examples for under $40,000, even as low as $20,000. It all depends on how much TLC each specific car needs.
If you want a Mark III in decent to great condition, expect to see a range of prices between $40,000 to $90,000. They made more Mark III models than the others, so you will see more of them available for sale.
You can also find Mark I and Mark II Austin Healey 3000 examples for sale. Pricing varies according to condition, but most running examples start in the $40,000 range. Some of the most pristine Mark I and Mark II cars fetch close to, or above the six-figure mark.
This is a go-kart for adults on a beautiful day, offering a sporty yet nostalgic driving experience. As time goes by, owners will be less inclined to drive them, but this car has the heart of a racer. Every time you drive one, you will want to envision a few laps at Le Mans.
Just try to resist the urge to drive the Austin Healey 3000 if you fire it up. Listening to the old BMC C-Series straight 6-cylinder engine purr will sound like music to any driver. Sometimes that can provide even more appreciation for the classics than understanding its monetary value.
There is a lot of racing history within the framework of the Austin Healey 3000. This is a beautifully timeless exterior design, an extraordinary masterpiece of vintage British automotive styling. It looks just as good in a museum as it does on a race track, and it always will.