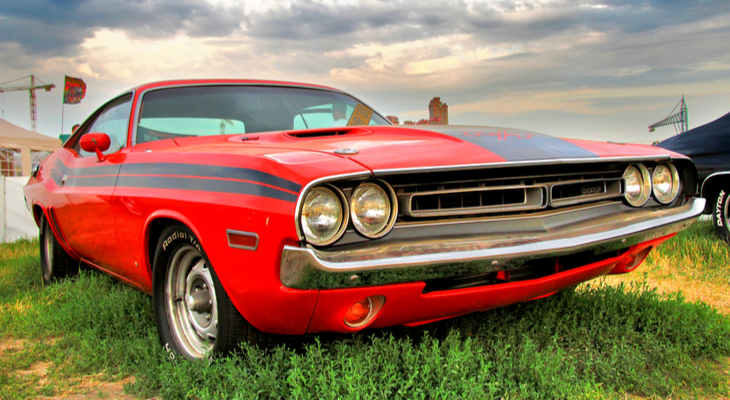 Some are born complacent, while others rise to the occasion. If faith can move mountains, what happens when a competitor grabs the bull by the horns? Perhaps the Dodge Challenger was born to toss its hat in the ring.
Classified as a pony car, Dodge introduced the Challenger in the autumn of 1969 for the upcoming model year. Of course, many people just call it a muscle car. At the end of the day, any Challenger with a Hemi has enough intimidating brawn to be whatever it wants.
Back in the day, many automobile manufacturers shared platforms whenever there was an opportunity to capitalize on efficiency. In the case of the Dodge Challenger, it shares the Chrysler E-Body platform with the slightly smaller Plymouth Barracuda.
Although they are cousins, there are some differences between the Cuda and the Challenger. To shed a little more light on the subject, take a look at the headlamps. The Challenger has four compared to two on the Cuda.
Next, consider the size difference, the Challenger has a longer wheelbase by two inches. Overall, the Challenger is longer, wider, and slightly taller even though it shares the same foundation as the Cuda.
Production numbers are also different between the two vehicles. Plymouth only made 46,373 Cudas in '70 while Dodge rolled out 76,935 Challengers. One of their rivals, Ford, built 198,000 Mustangs for the same model year.
From Pony to Demon
Available as a 2-door hardtop, coupe, or convertible, the 1970 Dodge Challenger launched the first-generation of a legacy. Not every descendant was successful, but one of the succeeding generations captured the entire world. The Challenger has reached legendary status in the modern era thanks to a certain cat from the depths of hell.
Before the Hellcat, there was the 1970 Dodge Challenger R/T with the optional Hemi engine. You saw Barry Newman's knuckles around the steering wheel of one in Vanishing Point. If you have never felt the raw power of this massive V8 engine, you are missing out.
In Barry Newman's own words,"it was almost as if there was too much power for the body. You'd put it in first and it would almost rear back!" Although the Hemi was not the only engine available in the 1970 Dodge Challenger, it clearly is the most desirable.
This 7.0L, 426 cubic-inch engine produces 425 horsepower. That's Mopar pride, every cubic inch of it. The real treat is when you fire it up.
Hemi engines get their name because they use hemispherical combustion chambers. This design has advantages and some disadvantages. It is an extremely efficient chamber with minimal heat loss going to the head of the engine.
These engines typically are more sensitive to octane ratings. Not only will you notice a difference with higher octane fuels, many Hemi engines thrive on it. Sure, it is also a nice marketing term as well because the Hemi badge sells cars and trucks.
Once you get the motor running, listen to the depth of the purr. When you are driving it, push it and listen the closer you get to reaching peak power. Chrysler Hemi engines roar with the fury of a fiery beast.
Other available engines in the 1970 Dodge Challenger include an even bigger 440 cubic-inch 7.2L Magnum V8. This engine has 375 horsepower, or 390 horsepower with the famous Six-Pack six-barrelled salvo. Although it is very popular and almost as desirable, it is not a Hemi.
You could also get a '70 Challenger with different variations of less powerful engines. The standard engine in base models is a 3.7L inline 6-cylinder. 318 cubic-inch, 340 cubic-inch, or 383 cubic-inch V8 engines were also available.
Transmission options in the 1970 Challenger begin with the standard 3-speed manual. A 3-speed TorqueFlite automatic or a 4-speed manual transmission were available with select engines.
SE models are the base versions. R/T configurations are the performance models of the first-generation Challenger. In case you do not know, the R/T designation translates to Road and Track.
R/T configurations came with a Rallye instrument cluster featuring a 150 miles per hour speedometer. If the 8,000 rpm tachometer didn't rev your engine, the available shaker hood scoop will get you going. The R/T was only available as a hardtop or convertible.
The SRT division did not exist yet. However, there is a 1970 Dodge Challenger T/A. The T/A designation means Trans Am.
This is a special model, only available in 1970. The '70 Challenger T/A is essentially a racing homologation car. You could use the Challenger T/A in the Sports Car Club of America's Trans American Sedan Championship.
You can usually identify a Challenger T/A by the dual side stripes and bold graphics on the body. There is also a ducktail rear spoiler and a front spoiler on T/A Challengers. It also has side exhaust outlets, so watch your legs if you wear shorts or skirts.
It doesn't matter what you wear when you show up in a 1970 Dodge Challenger, the car always steals the show. Luckily, Dodge made enough of them to make sure a few are still available if you want one.
Find Your Challenger
Finding the right 1970 Dodge Challenger price is the true challenge. These are popular classic cars, even for American muscle. Fortunately, there are plenty on the market at any given time, so you will have your pick of the lot.
Project examples are everywhere. You can find an SE in need of some TLC between $10,000 to over $20,000. A project Challenger T/A will fetch over $30,000.
Elbow grease isn't exactly free, but it can be rewarding to piece together your own restoration project. Some people prefer to just get in and drive. There is nothing wrong with either approach, in the end, car enthusiasts everywhere still win.
Most completed restoration or rebuilt 1970 Challengers list for over $50,000. That's a far cry from the original R/T sticker price of $3,266.
If you are looking for a 1970 Dodge Challenger R/T for sale, you are not alone. Prepare to pay between $75,000 to over six figures for a clean R/T with a Hemi. Even the 440 engine Challengers are selling for close to six figures now.
It is a sharp car with aggressive styling. The old-school Challenger is fun to drive while offering a nostalgic experience every time you get in the driver's seat. From cruising to drag racing, this car deserves the respect it earns.
As the Challenger continues its successful run, it cements itself as a symbol of perseverance and ambition. Anything is possible when you accept a challenge and overcome adversity. The 1970 Dodge Challenger is a timeless machine and it always will be.