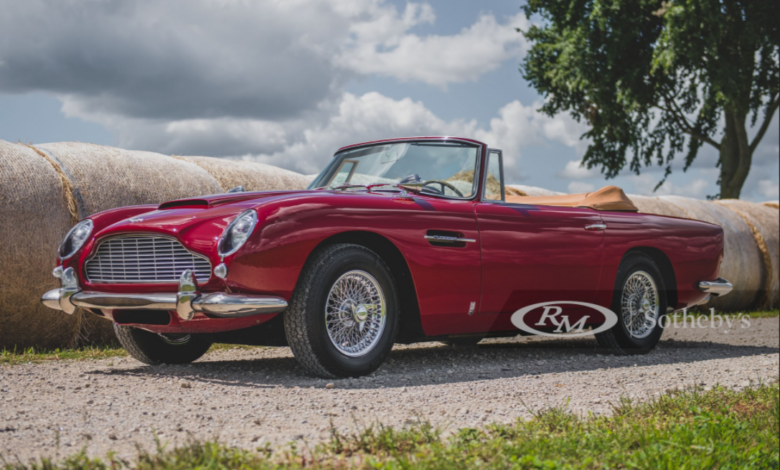 Combining lavish comfort, premium performance and legendary racing heritage, Aston Martin is in a class of its own.
Aston Martin also designs gorgeous automobiles, continuing their prestigious design reputation to this day. The 1965 Aston Martin DB5 Vantage is one of their finest examples to ever grace the boulevard.
Aston Martin's vintage DB5 also happens to be quite famous, most notable for making appearances as James Bond's transportation of choice. Of course, James Bond drove a base model DB5, not the more desirable Vantage edition.
Some of cinematic history's most sinister villains are grateful James Bond doesn't use the 1965 Aston Martin DB5 Vantage on screen. Although the Vantage looks just as classic as the DB5 movie star, it brings additional performance capability along for the ride. Perhaps some of the films required a slower car to allow more time for plot twists?
One of the reasons the DB5 Vantage is so exquisite is due to its performance capability. Featuring three Weber side-draft carburetors along with revised camshaft profiles, this version of DB5 engineering puts the advantage in Vantage. Capable of producing 325 brake horsepower at 5,750 rpm, the DB5 Vantage brings plenty of pep in its step.
Other notable Vantage upgrades over standard DB5 models include flow-tuned intake manifolds, extra-large cylinder head porting, and advanced ignition timing. All inclusive, the Vantage DB5 upgrades translate to a factory 0 to 60 time of 6.5 seconds. Very impressive for 1965.
Considering the power output of the Vantage offers a 40 bhp increase over standard DB5 models, villains would have no time to escape. Bond films aside, standard DB5 examples are a dime a dozen compared to the Vantage.
The DB5 Vantage is quite a bit more difficult to acquire. From 1963 to 1965, Aston Martin produced a limited number of DB5 Vantage coupes and convertibles. Of those, Aston Martin only made seven DB5 Vantage convertibles for the 1965 model year.
Rarefied Aston Martin Air
With only seven in existence, the 1965 DB5 Vantage convertible is one of the rarest Aston Martins ever made. For both connoisseurs and enthusiasts, the classic DB5 Vantage convertible is one of the most desirable DB5s in existence.
For a higher performing DB5 experience, you need to get your hands on the steering wheel of a Vantage. The only problem is they are quite elusive. If you want one, you will have to be a bit patient if you decide to pass on one when it becomes available..
As exclusive as the DB5 Vantage is, believe it or not, RM Sotheby's actually has one available. Finished in Peony Red, this model is a near-perfect 1965 Aston Martin DB5 Vantage convertible. As one of only seven total factory-original DB5 Vantage convertibles, this example is in magnificent condition.
Throughout its life, this particular DB5 convertible has been in good hands. In 2005, along with a left-hand drive conversion, new ownership restored the vehicle to concours standards. All documents regarding the work done, showing over $200,000 worth of invoices, are accessible in the history file.
Although this vehicle does not still have its original engine, it has an exact replacement, perceived to be from Aston Engineering. A 5-speed manual transmission puts the power in the driver's hands. The interior features an elegant tan Connolly leather upholstery with a matching Everflex convertible top, and camel Wilton wool carpeting.
Since restoration, this specific DB5C has won several awards, such as the 2005 Greenwich Concours Europa Chairman's Choice Award. There is a great collection of detailed photos to view through RM Sotheby's website to see the beauty for yourself. To register your interest in purchasing this vintage 1965 Aston Martin DB5 Vantage convertible, contact RM Sotheby's before it's too late.
This is a very well-maintained, pristine-for-its-age 1965 Aston Martin DB5 Vantage convertible. Collectors and enthusiasts are taking note because these are not available every day, or even every decade for that matter. Best of all, with so much recent service, you can fire it up once in a while, if you desire.
Seven Figure Vantage Point
If you are ready to roll the dice on a '65 DB5 Vantage convertible, it's all about hitting those lucky sevens. Since only seven of them exist, prepare to pay a premium price, if you can even find one for sale. A decade ago, '65 DB5 Vantage convertible values were already nearing seven figures.
The privilege of owning one of the most iconic and scarce Aston Martins on this planet carries a seven figure price tag. Perhaps it's a good thing the Vantage convertible was never used in Bond films, or else this car would truly be as untouchable as they come. There would not be any left.
RM Sotheby's has one of the most extraordinary Aston Martins you'll ever see on display, until it's gone. It may be awhile before you see a 1965 Aston Martin DB5 Vantage convertible available again. Don't miss your chance to own a splendid piece of British automotive history.
IMAGE CREDIT – RM Sotheby's