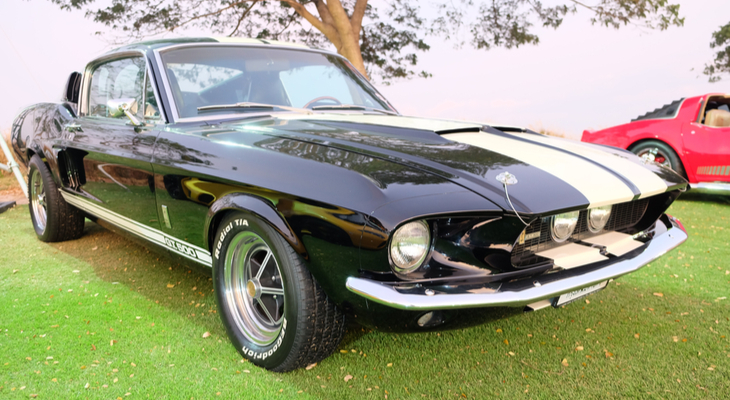 Few cars hit the ground running with as much success as Ford's Mustang achieved in the 60s. From iconic styling to exciting pony car performance, the Mustang is one of the all-time great American muscle era remnants. The 1967 Ford Mustang Fastback is a living legend, it still recruits new enthusiasts without making much effort.
Ford completely re-designed the 1967 Ford Mustang Fastback to give it more of a Gran Turismo styling. This restyling included all-new body sheet metal with a short deck lid, lending a defined roofline to the tail of the car. The large rear window design flows seamlessly with the updated roof styling.
Classy, sporty and recognizable, the 1967 Ford Mustang Fastback's exterior features a functional flow-through ventilation system design. Thin air louvers along the rear quarter of the roof make this possible. These air vents are manually operated from inside the vehicle.
The chiseled and sculpted exterior match the athletic performance of the '67 Ford Mustang Fastback. Besides the fastback exterior, most of this Mustang is similar to the hardtop and convertible versions from the same model year.
Often known as a 2+2, this fastback coupe seats two in front plus two in back. Although the rear seating space is minimal, there are still technically seats available. Since many muscle and pony cars offered an option without a rear seat, the +2 indicates the model has one.
The front-engine, rear-wheel drive (FR) layout provides the familiar, old school driving experience many purists prefer. In typical Ford fashion, several engine options were available for the 1967 Mustang Fastback. Interested buyers had both 6-cylinder and V8 options, covering a wide range of performance possibilities.
1967 Ford Mustang Fastback Engine Specs:
Standard Engine – 200 Cubic Inch 3.3 Liter Six-Cylinder – 120 Horsepower
289 Cubic Inch 2V 4.7 Liter V8 – 200 Horsepower
289 Cubic Inch 4V 4.7 Liter V8 – 225 Horsepower
289 Cubic Inch Hi-Performance 4.7 Liter V8 – 271 Horsepower
390 Cubic Inch 6.4 Liter V8 – 320 Horsepower
1967 Ford Mustang Fastback Transmission Options:
3-Speed Manual
4-Speed Manual
Cruise-O-Matic
Ford's Cruise-O-Matic enables drivers to operate the '67 Mustang Fastback in a manual shifting mode or as a fully functioning automatic transmission. Although many modern vehicles offer a similar feature, this kind of transmission technology is rare for classic cars.
Rolling Out the Red Carpet
Few cars capture the hearts of millions with as much thrilling anticipation as Eleanor, the star of the Gone in 60 Seconds remake. Although dressed to look like a 1967 Shelby GT500, Eleanor is actually a '67 Mustang Fastback with custom modifications. Enjoying stardom status while being instantly recognizable is just another day at the office for the '67 Fastback.
Of course, the actual Shelby GT500 is not a '67 Fastback Mustang, but it is very similar in design. Shelby always modifies Mustangs to squeeze more performance and style out of them before blessing them with their badge. Look at the taillights to notice the difference between a Shelby and an unmodified Ford for the '67 model year.
The other popular late 60s Mustang Fastback is Steve McQueen's Bullitt, but that car is actually a 1968 model. However, many resto-mod specialists build pretty accurate replicas out of '67 Fastback models. Expect to pay close to six figures for a replica, but you'll break the bank if you want a real version.
Saddle Up for Another Ride
The average 1967 Ford Mustang Fastback market offers plenty of options across a wide range of values. You can find quality examples under $50,000. However, pristine and unique examples will fetch north of six figures.
With its notorious style and seductive presence, the 1967 Ford Mustang Fastback is very sought after by collectors and enthusiasts. Getting your hands on an authentic '67 Ford Mustang Fastback may eventually prove difficult, but for now, you can find them. However, industry innovations are making it possible to keep the classics alive for many future generations to enjoy.
Companies are now manufacturing replacement body shells for many of the most popular vintage cars. Most builders and sellers who have a vehicle featuring replacement parts or shells are very up-front and honest about it. Still, you should always do your due diligence before finalizing the purchase of a model advertised as original or authentic.
Keeping the '67 Mustang Fastback on the road is essential to preserving its legacy. Many future generations may see scenes from the popular 2000 film and wonder what kind of car Eleanor is. Giving them a chance to see an actual 1967 Fastback Mustang in person is akin to making dreams become a reality.
At the end of the day, the 1967 Ford Mustang Fastback is still the center of attention wherever it goes. With their lustrous coats shimmering in the sun, these wild horses still love to run. All it takes is one turn of the key to invoke nostalgia while you blast off into the sunset.